Junk Bond Investors Shrug Off Omicron and Dial Up Risk Taking
(Bloomberg) -- U.S. junk bond investors are dialing up their risk taking, snatching up the lowest-rated securities and pouring money back into high-yield funds.  
Bonds graded in the CCC tier, the lowest ratings that often trade in high yield, have been the best performing junk securities this month, gaining 1.3% through Monday's close, according to Bloomberg index data. That compares with gains of closer to 1.1% for securities rated BB and B on a total return basis.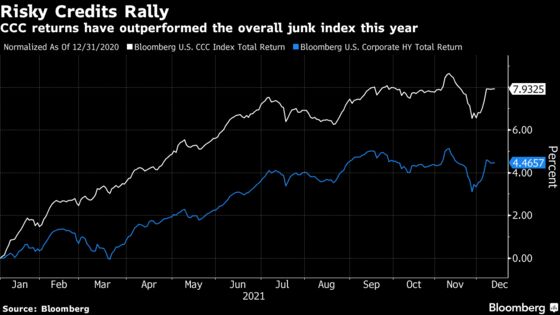 High-yield funds saw inflows of an estimated $550 million in the last three trading days, according to JPMorgan Chase & Co., citing Refinitiv Lipper data. Last week, investors added $1.26 billion to the funds.  
Demand is strong enough that Ancestry.com is looking to sell $250 million of bonds to help finance a payout to private equity owners including Blackstone Inc. That comes after it borrowed $350 million in the leveraged loan market earlier this year to pay a dividend. The current owners only bought the company last year.     
The gains in junk bonds come after fears about the omicron variant of the coronavirus plus inflation weighed on the securities late last month. Speculative-grade notes lost 1.17% in the last full week of November on a total return basis, and declined around 1% for the month.   
Heavy demand from investors has been pulling first-time issuers into the market all year. Skillz Inc., a gaming company, is looking to raise $300 million in its debut junk bond sale. The company has floated a yield of around 11%, according to people with knowledge of the matter. That includes a discounted price of 97 cents on the dollar, the people said. The deal is slated to price Wednesday.
"The outlook for the base case in high yield is rather benign as defaults stay low and spreads are at least modestly off their lows, allowing more room for compression in 2022," said Ken Monaghan, co-head of high-yield at Amundi US.  
New bond supply is slowing to a trickle as the U.S. market winds down for the holidays. 
JPMorgan Chase & Co. is joining electronic bond-trading platform Trumid Financial LLC as a liquidity provider, a Trumid spokesperson confirmed
Credit market volatility in late November failed to spark a rise in trading volumes, according to a report from research firm Coalition Greenwich
NSO Group Ltd., the scandal-plagued spyware company that's in danger of defaulting on its debts, is exploring options that include shutting its controversial Pegasus unit and selling the entire company, according to people familiar with the matter
For deal updates, click here for the New Issue Monitor
For more, click here for the Credit Daybook Americas
Primary markets were muted Tuesday on concern about the spreading omicron coronavirus variant and looming central-bank rate decisions.
The U.K. confirmed that one person has died from omicron; a paper by University of Oxford researchers found that two doses of Pfizer and AstraZeneca's vaccines induced lower levels of antibodies against the variant
Patrick Drahi has raised his stake in BT Group Plc, ramping up speculation the French billionaire will play a key role in a takeover of the U.K. telecom firm

The cost of insuring BT's debt against a default has been surging on speculation about a possible takeover by Drahi and the risk of a leveraged buyout

Bank of England and European Central Bank rate decisions are due on Thursday, Bank of Japan on Friday

The BOE is reintroducing a capital buffer requirement for the U.K.'s biggest lenders, with plans to boost it to 1% by December next year and 2% by the second quarter of 2023
A sudden plunge in developer Shimao Group Holdings Ltd.'s bonds and shares has fueled renewed worries about China's property sector
Deals in Asia's primary debt market screeched to a halt before central bank meetings and Shimao's dollar bonds tumbled as much as 10 cents in Hong Kong
In Asia's primary dollar bond market Monday, China Construction Bank Corp/Macau sold debt