ETF Investors Turn Sour on Junk Bonds
(Bloomberg) -- As equity and credit markets roil, exchange-traded fund investors are running from risk.
Investors yanked more than $224 million from the $7.3 billion SPDR Bloomberg Barclays High Yield Bond ETF, ticker JNK, Monday, and more than $72 million from the $3 billion SPDR Bloomberg Barclays Short Term High Yield Bond ETF, or SJNK.
"When I see credit spreads getting wider and large outflows, it tells me 'risk off' right now," said Christian Fromhertz, chief executive officer of Tribeca Trade Group, who monitors credit markets to assess risk. "Generally, as an equity investor you want to invest in a calm landscape. Widening credit spreads can be taken as a potential warning sign."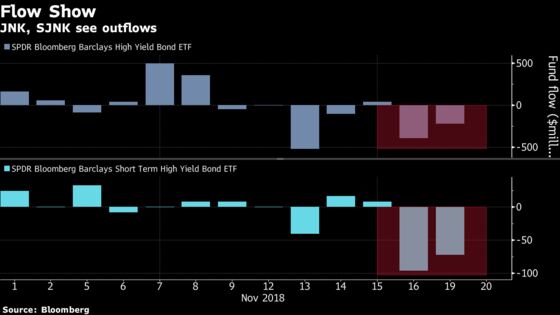 Credit markets are set for the worst year since the financial crisis as more and more investors abandon hope for a year-end rally. Setbacks and blowups this month, including a slump in General Electric bonds, have unnerved markets, which are also adjusting to rising interest rates.
In light of GE's debt turmoil, money managers are eyeing others in the investment grade world that could be bound for credit-rating cuts, fearing slowing global growth and rising rates. High-yield and investment-grade notes are headed for losses in both euros and dollars, and for the first time since 2008 all four asset classes have posted negative total returns.
On the other hand, the $14.3 billion iShares iBoxx High Yield Corporate Bond ETF, or HYG, has seen inflows for three straight days, including more than $747 million on Monday alone. At the same time, short interest as a percentage of shares outstanding rose substantially last week and stands at 26.9 percent, higher than the year-to-date average of 23.3 percent, according to data from IHS Markit Ltd.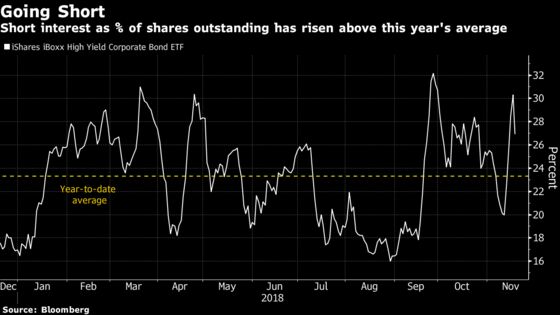 "I don't think it's investors actually buying HYG over JNK," said Mohit Bajaj, director of exchange-traded funds at WallachBeth Capital. "It's more 'create to lend' as the borrow in HYG has gotten tight with the sell-off in the market. With borrow in the stock increasing to the high single digits, market makers are creating the stock to lend to capture some of that premium."
HYG was headed for its ninth straight daily decline Tuesday, a streak that would match its longest since 2014, which is also the longest ever for the fund.