Jump in Active Bitcoin Accounts Nears High Set Before 2018 Crash
(Bloomberg) -- The number of active Bitcoin accounts is approaching the all-time peak reached just before the notorious volatile cryptocurrency crashed three years ago.
About 82% of all Bitcoin supply was held in accounts that have been active in the last six months as of Jan. 4, according to researcher Flipside Crypto. That's up from 44% last February. More than 2.1 million accounts have been active in the past week -- a number that was only slightly higher in December 2017. Less than 2% of accounts control 95% of all available Bitcoin supply, according to Flipside.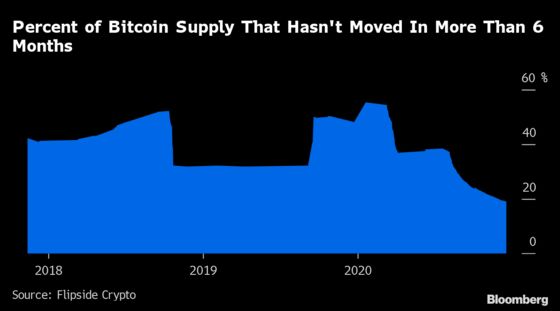 While the surge in activity could suggest some true believers are taking advantage of Bitcoin's surge to take some profits, a flood of new accounts and the ever-rising price of the token also seems to indicate that newcomers are also piling in.
Zhao "CZ" Changpeng, chief executive officer of crypto exchange Binance, said that large holders have been buying more Bitcoin.
"We have seen many whales waking up and buying, and many investors who bought in 2017 near the peak finally 'thawed' and are active again," Zhao said. "Compared to 2017, the biggest difference we see is that people are far more active now. If they were just testing the water in 2017, they are really moving significant portions of their net worth into crypto now."
Bitcoin's price more than quadrupled in 2020 amid optimism it was gaining a greater foothold among institutional investors.
"The interesting thing here is that the decrease in stagnant supply could suggest lots of hodlers were waiting for the price to increase so that they could liquidate," said Eric Stone, head of data science at Flipside Crypto. "There is also a steadily increasing number of active addresses and more withdrawals than deposits to exchanges (and addresses withdrawing versus depositing), even as trading volume has increased on the buy-and-sell side, suggests that the current mood toward Bitcoin continues to be more bullish than the bubble in 2017."