JPMorgan Uses RV Data to Suss Out Harley-Davidson Options Idea
(Bloomberg) -- Investors should buy bearish options on Harley-Davidson Inc. as the drop in recreational spending will likely hurt earnings at the motorcycle manufacturer, according to JPMorgan Chase & Co.
Harley's quarterly shipments are highly correlated with sales of recreational vehicles, which have weakened recently, implying a "significant downside risk" to the company's shipment guidance for the first quarter, derivatives strategists led by Shawn Quigg wrote in a note Wednesday. Credit may also become an issue for the company with auto delinquencies near a 19-year high, the analysts wrote, citing data from the Federal Reserve Bank of New York.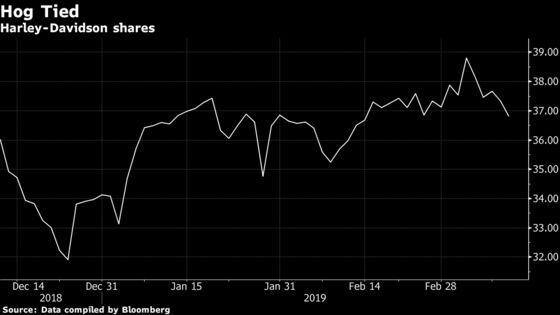 Harley has had a tough time in the past year. Tariffs will cost the company between $100 million and $120 million this year, Chief Executive Officer said on a conference call with analysts Jan. 29. That's after Harley last June said it would shift some production outside the U.S. to avoid the EU's higher tariffs, prompting a barrage of criticism from U.S. President Donald Trump including support for a boycott.
Harley shares have been above $36, JPMorgan's suggested strike price for the put trade, since Feb. 12. They're up 7.9 percent year-to-date, compared with an 11 percent gain for the S&P 500 Index.