JPMorgan Stock Pickers Favor Chinese Growth Stocks
(Bloomberg) -- It's time to buy beaten-up China growth stocks, according to a JPMorgan Asset Management fund manager who's averaged double-digit returns in recent years.
"Sentiment so far has been a lot worse than reality," Mark Davids, who manages the JPMorgan Asia Growth Fund with Joanna Kwok, said in an interview in Hong Kong Thursday. Their $262 million fund returned about 15 percent annualized over the past three years, according to data compiled by Bloomberg.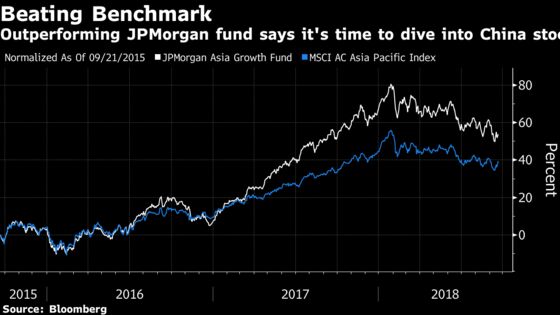 Worries over the U.S.-China trade war have hit Chinese equities, leaving some trading at attractive multiples, Davids said. Among the names the fund has added this year:
51job, Inc., a Shanghai-based staffing firm that's an early mover in outsourcing -- an industry "in its relative infancy," in China, Davids said.
Shenzhou International Group Holdings Ltd., a Ningbo-based supplier to Nike Inc. and Adidas AG that's innovated its way into tech sector-like multiples and is now "China's best textile company," according to Davids.
The fund's biggest allocations are to financials, where Davids favors private-sector Indian banks, which still have time to benefit from reforms of the country's "moribund" state-owned banking sector, he said.