JPMorgan Slams Brakes on Losses For Lycra's Battered Creditors
(Bloomberg) -- Creditors to Lycra, the struggling maker of stretchy fabric used in yoga pants and skinny jeans, can thank analysts at JPMorgan Chase & Co. for giving them respite from months of losses.
An overweight recommendation from the Wall Street titan on the company's euro bonds last month has helped spur a much-needed rally in the notes which hit a record low in December.
The Lycra Company may be on the brink of a turnaround, the analysts wrote. Earnings could pick up thanks to savings from restructuring the business, its owner -- Chinese luxury apparel firm Shandong Ruyi Technology Group Co. -- may resolve its own debt woes and the firm could ultimately get better access to funding, they said.
Lycra's bonds have rallied since the report was published on Dec. 12, with the euro bond quoted about 2 cents shy of JPMorgan's six-month target price of 80 cents. The bank arranged the bond issuance in 2018.
But a successful recovery isn't a given. Lycra reported weak earnings in December amid slowing demand for its product in China where it gets about 25% of sales. Moody's Investors Service downgraded the company by two steps to B3, six levels below investment grade, citing increased leverage, low spandex prices and its owner's deteriorating credit quality. The outlook on the rating is negative, indicating Moody's expects to cut further.
"Any investor that wants to buy a B3-rated credit in this low-rate environment needs to be comfortable with downside risk," JPMorgan analyst Stephanie Vincent, one of the report's authors, said by phone. "But investors who are comfortable will appreciate that Lycra is one of a few companies that has an easily-recognizable international brand."
Representatives for Shandong Ruyi didn't respond to requests for comment for this article. Officials at Lycra said in an emailed statement: "We are a privately-held company and do not comment or disclose our financial results."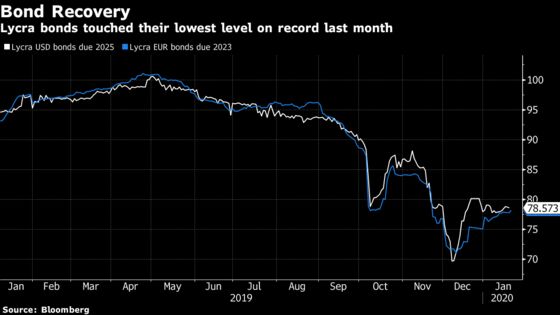 Investors are also encouraged by Ruyi's repayment of a $345 million bond last month, helped by a cash windfall from state-owned Jining City Urban Construction Investment Co. buying a stake. Ruyi also paid interest on $300 million of bonds due 2022 earlier this month, although bondholders experienced a delay receiving full payment.
There are still many negatives for investors to consider. Lycra has an interest burden of $33 million every six months. Its leverage is currently too high to meet terms for gaining full access to a revolving credit facility, according to JPMorgan. The company is due to pay $53 million in July on a note that funded an acquisition of Taiwan-based assets.
"Liquidity does look tight for the July payment," said Vincent at JPMorgan. "We expect them to get through but it would comfort investors if the deadline was extended or the debt was forgiven."
Difficulties also continue at the parent which is in dispute with its creditors over a $400 million mezzanine credit facility used for acquiring Lycra. Creditors demanded repayment of the loan late last year after Ruyi failed to meet payment commitments and breached covenants, according to a person familiar with the matter. Ruyi is seeking to raise equity funding to repay it this quarter, Debtwire reported earlier this month.
Ruyi bought a 53.4% stake in Lycra last year from Invista, a subsidiary of Kansas-based Koch Industries, for more than $2 billion, people with knowledge of the matter have said.
"Lycra was sold for a huge amount of money so there's a pretty large equity cushion for creditors," said Evgeny Artemenkov, a high-yield money manager at Saastopankki in Helsinki. "But in the market's view that cushion has been greatly eroded, with the bonds trading below 80 cents on the dollar. The company hasn't performed."