Technical Pieces May Be Aligning for S&P 500 Bottom Near 2,700
(Bloomberg) -- The S&P 500 Index's drop to its lowest level in nearly five months could be a sign of better days ahead, according to JPMorgan Chase & Co. technical strategist Jason Hunter.
"The break to new correction lows puts the pieces in place for a bottom," Hunter wrote in a note. "We expect any residual weakness to find buying interest below 2,700."
The S&P 500 tumbled as much as 2.3 percent to 2,691.43 Tuesday, its lowest intraday level since May 29, before rallying back to close down 0.6 percent at 2,740.69. Today, the gauge fell as low as 2,703.33 before bouncing back again, though it was still on track for its sixth straight negative close.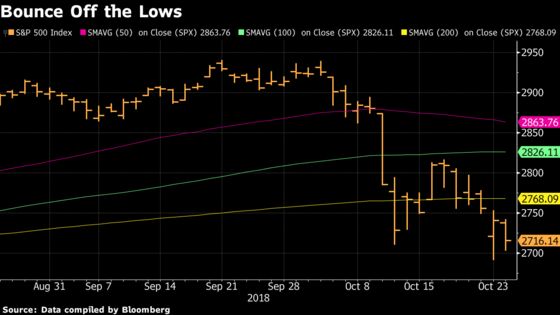 Hunter still expects a fourth-quarter rally that could reach new cycle highs into early 2019. In that, he's joined by Evercore ISI technical analyst Rich Ross, who said the setup exists for an inflection higher, calling yesterday's move a "classic drawdown to support" and noting extreme oversold conditions as well as a period of strong seasonality in which stocks tend to go higher.
Dennis Gartman, publisher of The Gartman Letter, also sees the 2,700 level as key for the S&P 500. He believes it is support "for now," though questions whether that can last. But he said a bounce back toward the 2,820-2,850 range is "reasonable."
Piper Jaffray sounded a note of caution, focusing on the fact that the benchmark closed yesterday below its 200-day moving average as a "major red flag for investors."
"The technical environment for U.S. equities remains challenging as recent volatility severely damaged market breadth and momentum," Piper Jaffray's Craig Johnson and Adam Turnquist wrote in a note published before the market open today. "Based on the overall technical evidence, we see building risk for further downside and recommend investors proceed with caution. In terms of support, we are watching the October lows followed by the 2,692-2,700 range and 2,677."
JPMorgan is watching the mid-2,700s as possible confirmation on the direction.
"The S&P 500 Index break to a new correction low and test of the 2,674-2,693 support zone triggered bullish momentum divergence signals on the intraday time frames," JPMorgan's Hunter wrote. "A move through 2,755-2,768 resistance would confirm a short-term trend reversal and turn our attention to the 2,816-2,826 and 2,865 resistance layers."