JPMorgan Sees First Geopolitical Risk Victims in Gold and Yen
(Bloomberg) -- If they really want to steer clear of geopolitical flare-ups, investors should set up bigger positions in the dollar and volatility indexes -- and abandon favorite hideaways in the yen and gold, according to JPMorgan Chase & Co.
Assets long thought to be havens don't necessarily hold up as the safest stores of value amid newer threats shaking markets more violently and often, they said. In a 135-page report Thursday, the bank's strategists led by Global Head of Research Joyce Chang showed stocks growing increasingly sensitive to political instability since 2008.
"Geopolitical risk is the norm, not the exception," Chang said in a telephone interview. "We're trying to incorporate Big Data and higher-frequency ways" to find investment strategies.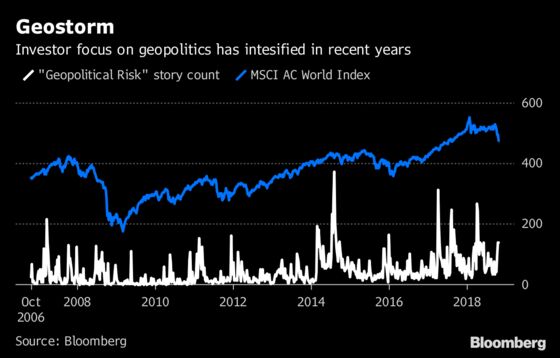 From Brexit to the election of U.S. President Donald Trump, investors have had to deal with the impact to their portfolios from any number of unexpected market-moving geopolitical events in recent years. The escalating U.S.-China trade war has pummeled many global stocks in 2018, while the oil price has surged on the turmoil in Venezuela and U.S. sanctions on Iran.
Geopolitics impacts global markets materially about twice a decade, and local markets more often, strategist John Normand wrote in a section of the report. Volatility tends to surge before a crisis and doesn't always collapse right away, while large disruptions to oil supplies can make retracements take much longer, he found.
The impact of the Iranian sanctions and the situation in Venezuela have the highest likelihood of impacting markets in 2018 and 2019, while the U.S.-China conflict, mid-term elections, Brexit and cyberattacks are among events ranked with a moderate likelihood and impact at the bank. A collapse of peace talks with North Korea is less likely to occur but would have a high impact, according to the report.
Emerging markets are most at risk economically from the rise in anti-globalization, as the threat of an extended trade war has exacerbated concerns of a slowdown in growth, it said. Global trade remains the lifeblood of most EM economies, it noted.
Still, geopolitical risks can also benefit investors, according to JPMorgan. Defense companies and those providing tools against cyberattacks can gain from increased demand for their services. Conversely, U.S. technology companies could suffer because they depend on free immigration, while Asian insurers will be the most impacted by global warming and extreme weather, it said.
While U.S. commercial and residential mortgage-backed securities will be affected by worsening hurricanes, extensive government coverage means they are unlikely to see high losses, according to the strategists.
In order to quantify geopolitical sentiment, JPMorgan's Normand developed a Global Anxiety Index last year which is based on the number of news stories published daily across various geopolitical topics. Investors should brace for more volatility, according to its latest reading.
The gauge's "current level is well below average in aggregate and among components, highlighting the risk of disorderly markets into year-end," he said.
In an interview, Normand noted that the number of material political and geopolitical risks "seems to be quite high going into the next year," which he attributed partially to the way President Trump's administration approaches its policy objectives.
With the Federal Reserve expected to continue to raise rates in 2019, some have started to worry that tighter conditions will encroach on growth.
"If you're going into a year where there are reason to be concerned about the business cycle itself" and on top of that "layer on geopolitical risk," Normand said, "it should make you concerned about where markets are going to be."