JPMorgan Says the Steepening Yield Curve Won't Save Stocks This Time
(Bloomberg) -- Don't count on the steepening U.S. yield curve to bring back the rally in equities just yet, JPMorgan Chase & Co. strategists said.
While a widening spread between long-term and short-term interest rates is usually a positive indicator for the market, according to JPMorgan, this is only true if the 10-year bond yield is rising continuously. Additionally, for stocks to climb, a significant amount of time needs to pass following the U.S. Federal Reserve's emergency rate cut.
This is because inter-meeting Fed cuts are "typically a negative signal for the market," strategists led by Mislav Matejka said in a note on Monday. The "S&P 500 tended to be lower even 12-24 months after emergency Fed cuts. Furthermore, 10-year bond yield also tended to be lower a year or longer after the emergency cut."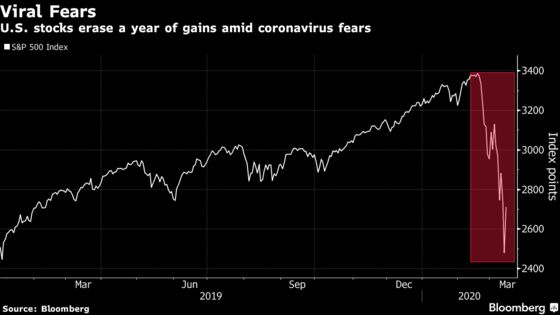 The Fed, in an unscheduled meeting on Sunday, slashed interest rates close to zero and launched a fresh quantitative-easing program in an effort to save the U.S. economy from the fallout of the coronavirus. The move failed to reassure investors as European stocks fell to the lowest level since 2012 and the S&P 500 tumbled as much as 11%, triggering a 15-minute trading halt at the open.
The period between the start of the yield curve steepening and the bottoming out of the stock market historically lasted as long as 18 months, according to JPMorgan. Also, this process usually preceded the recession by seven months.
JPMorgan strategists remain cautious on equities and recommend selling on any short-term bounce in stocks. For a sustained rally, equities would need to see a more aggressive fiscal policy, a peaking of the virus spread or an excessive pricing in of a recession, they said.
The S&P 500 has slumped as much as 27% since its February record high amid concerns about the widening economic damage from the coronavirus.
The strategists also discourage market participants from betting that the oil price collapse will help alleviate economic challenges because the correlation between the commodity and such cyclical factors as stocks, manufacturing and earnings, remains firmly positive.