JPMorgan Says Watch These Market Correlations for Warnings
(Bloomberg) -- A shift in correlation between U.S. equities and credit spreads, and a divergence between developed- and emerging-market currencies versus the dollar could be early warning signs of major market turning points, according to JPMorgan Chase & Co.
Clients have become more cautious as both bonds and stocks have rallied this year -- a combination that bothers many investors -- and as the significant drop in U.S. yields has coincided with only modest declines in the dollar versus its peers, JPMorgan strategists led by John Normand said in an April 5 note. However, those may not be the relationships to be concerned about, they said.
JPMorgan said credit spreads could widen later in the year as stocks continue to gain. That shouldn't be a worry as long as it's driven by deal activity, and can be tolerated if any Federal Reserve interest-rate hikes are slow. It does become an issue if the driver of widening spreads is weak corporate earnings, the strategists noted.
"Then spread widening is an early-warning sign worth heeding, as in the late 1990s before equities peaked in 2000," according to the report.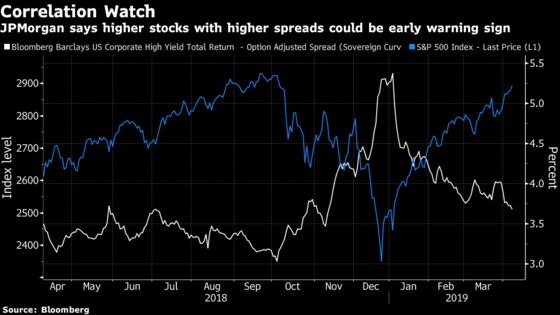 The S&P 500 Index is up 15 percent year-to-date, while the yield on the Bloomberg Barclays U.S. Corporate High Yield Index has fallen over a percent and a half to 3.68 percent. That's amid a comeback from a precipitous fall in equities at the end of 2018, a dovish pivot by the Federal Reserve, few signs that inflation is heating up and some indications that the Chinese economy is doing better.
The strategists are also keeping a close eye on the greenback's outperformance against its major peers, while underperforming emerging-market ones. The dollar gaining versus most major currencies and dropping against most EM FX occurs only about 10 percent of the time, according to JPMorgan.
"Strong country-specific influences outside the U.S. need to be in play to justify this anomaly," the strategists said. "This potential de-correlation within currencies bears watching if non-U.S. conditions change."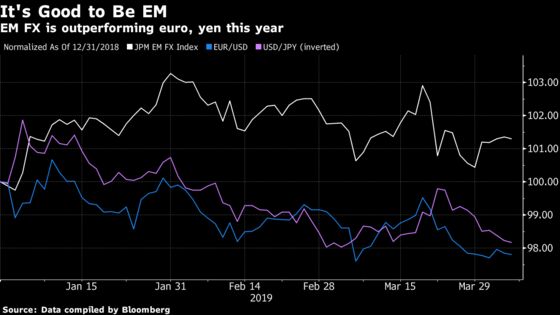 Another concern was cyclical and growth stocks underperforming defensive and value plays while the overall market is rising, though those correlation breakdowns are "more common than many assume," they noted.