JPMorgan Says Changes in Analyst Coverage Benefit Small-Caps
(Bloomberg) -- The evolution of equity analyst coverage appears to be helping small-cap stocks, according to JPMorgan Chase & Co.
Tracking of smaller companies has increased in most developed markets, even as mid, large and mega-cap equities have seen declines, according to JPMorgan small/mid-cap strategist Eduardo Lecubarri. He compared current levels with the end of 2016, since 2017 was the first year to see a meaningful reduction in coverage.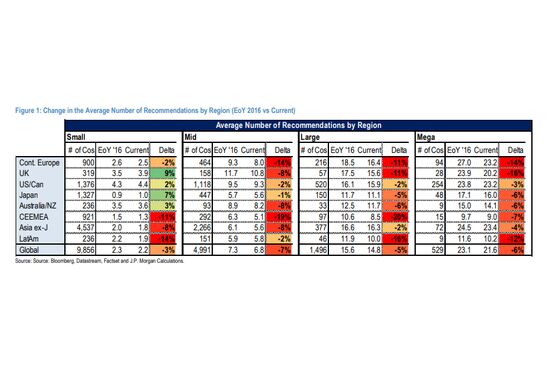 The most-covered companies from 2016 have seen the largest loss in coverage, Lecubarri said in a report Thursday, noting that the industry is moving away from "maintenance" research. The report was in response to him receiving "many questions about how coverage may be changing in SMid, with investors generally worried about any loss of coverage potentially impacting liquidity."
The Russell 2000 index of small-cap U.S. stocks is up about 15 percent so far in 2019, versus a gain of around 12 percent for the S&P 500, which is comprised of the largest American companies.
Coverage over the time period has driven liquidity, led to an increase in volume and boosted share prices of small- and mid-cap companies, Lecubarri said. This relationship breaks down for larger companies, with the opposite actually being true for mega-caps, he said.
"We continue to see a shift in the industry's focus towards SMid-Caps," Lecubarri said. Investor fears about loss in coverage "are unfounded," he said.