JPMorgan Says Slowing U.S. Virus Cases to Put Floor Under Stocks
(Bloomberg) -- A slowdown in the growth rate of new U.S. coronavirus cases may help put a floor under stocks and dampen volatility, according to JPMorgan Chase & Co.
The Cboe Volatility Index has been tracking data associated with the global spread of cases and has shown a relationship with growth at the U.S. state level, technical strategists Jason Hunter and Alix Tepper Floman wrote in a note Friday. The number of states with growth rates above 20% dropped to under 10 from over 40 in the past two weeks, a trend which could keep pressure on the VIX and moderate any equity declines -- if it continues, they said.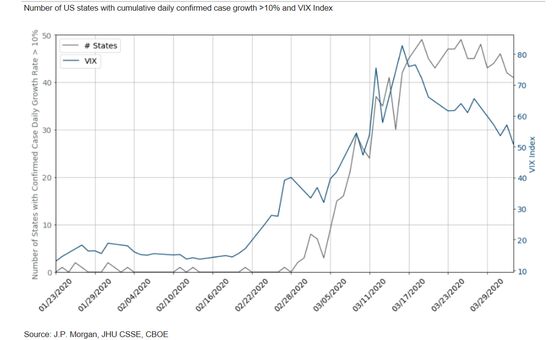 "Based on the recent correlation, case growth deceleration in that group can help put further downward pressure on implied equity volatility and blunt the nature of a retest of the March equity price low," the strategists wrote. "We suspected that markets could anchor to those statistics given the enormous uncertainties associated with a pandemic. So far, that has proved to be the case."
The JPMorgan duo expect the 2,100s level to hold on the S&P 500, serving as a floor for the market this quarter. They see the 2,750-2,850 area capping rallies over the period. The benchmark gauge closed just below the 2,490 level Friday, having fallen to a low of about 2,192 in March.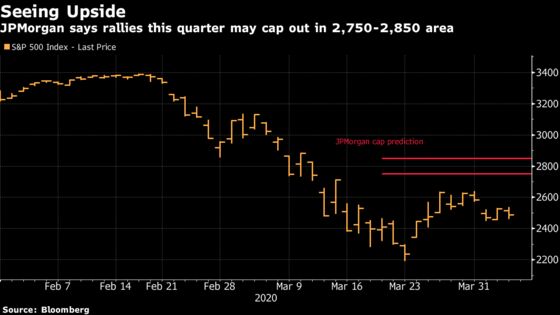 New York reported its first decline in daily coronavirus deaths on Sunday, though Governor Andrew Cuomo said it was too soon to draw any conclusions from the figures. New Jersey, which has the second-highest number of U.S. cases, also saw a slowdown in the death rate.
"In both Hubei, China, and Italy, a sustained cumulative case growth rate break into the single digits aligned with developing peaks in the epidemic curves," the strategists wrote. "As NYC marked one of the earlier major outbreaks in the U.S., we suspect further growth rate deceleration over the next week or so could help improve market sentiment."