JPMorgan Says Options Way Too Optimistic on General Electric
(Bloomberg) -- It's the perfect time for a bearish derivatives trade on General Electric Co., according to JPMorgan Chase & Co.
Options are pricing in too great a probability GE's stock clears $10 a share, and too little of a chance it drops back toward $7.50 or below, JPMorgan derivatives strategists led by Shawn Quigg wrote in a note Thursday. They recommend using put-spread collars -- buying put spreads while selling calls for zero cost -- to profit from mispricing ahead of a March 14 event where the company will discuss its outlook.
"Shares of GE are unlikely to breach $10 in the near term, owing to the company's recent commentary and fears of what may still lie ahead at the company's upcoming guidance update," the strategists wrote. "Meanwhile, the probability of the stock tracking back toward its December low appears to be rising."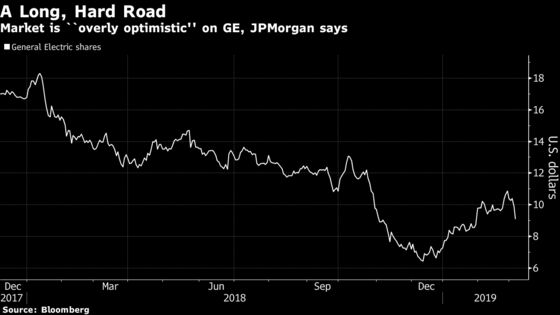 GE tumbled more than 12 percent in the past two days after Chief Executive Officer Larry Culp warned of further cash problems at the beleaguered company. The stock, which had been in the Dow Jones Industrial Average since 1907, was removed from that iconic index last June. That occurred in the middle of a relentless drop in price -- its shares sank 80 percent from July 19, 2016, through Dec. 12, 2018.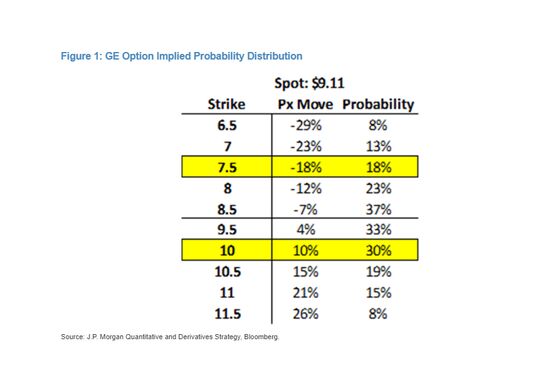 Throughout that time of decline, JPMorgan analyst Stephen Tusa was underweight the company, a famed sell-side call that finally ended when he upgraded the shares to neutral in December. After Culp's comments on Tuesday, Tusa said his price estimate of $6 might be high and that other analysts will likely have to move their projections and targets lower.
GE rose 1 percent to $9.20 as of 10:22 a.m. in New York Thursday.
The JPMorgan derivatives strategists said the options market is pricing in a move of about 9.2 percent in the shares following the guidance update, an increase from about 5.5 percent the day before. They see a low chance of the shares exceeding $10 in the next month, regardless of the guidance provided, partially because they say other analysts could use the event to cut their ratings and price targets.
"Market participants are premature to assume the low for the stock has been realized," the strategists wrote. The put-spread collar "takes advantage of what we believe are overly optimistic expectations priced into the option markets."