JPMorgan Says Giant Volatility Product May Rise From the Ashes
(Bloomberg) -- One of the world's largest exchange-traded volatility products has barely exited the stage and already there's talk of a comeback.
After the delisting of the VelocityShares Daily 2x VIX Short Term ETN, ticker TVIX, strategists at JPMorgan Chase & Co. reckon the firm behind the $1 billion note could team up with a fresh issuer to launch a copycat.
VelocityShares, a subsidiary of Janus Henderson Group Plc, marketed TVIX while Credit Suisse Group AG issued the product. The Swiss bank announced last month it was moving TVIX to over-the-counter trading and no longer creating new shares. Its new ticker is TVIXF.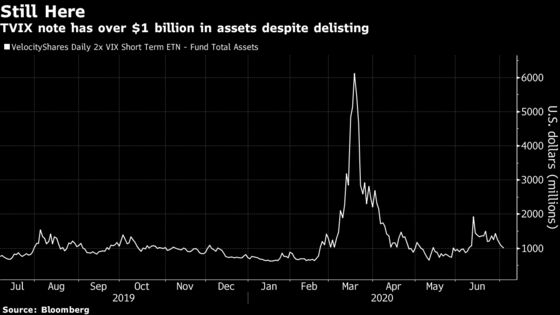 "TVIX is VelocityShares largest product (and one of the first it launched), so we believe the company will be motivated to try to re-issue a similar product with a new issuer," JPMorgan strategists led by Bram Kaplan wrote last week.
A spokesperson for Janus Henderson, which bought VelocityShares in 2014, didn't respond to an emailed request for comment.
There would likely be healthy demand for any such product as investors continue making leveraged bets on market turbulence.
Over $400 million has poured into the ProShares Ultra VIX Short-Term Futures ETF, ticker UVXY, in the past two weeks. Just a day after the Credit Suisse announcement, an upstart firm applied to register a geared fund that will invest in volatility index futures.
There's also precedent for the move, according to JPMorgan.
In 2016, Credit Suisse delisted a pair of three-times leveraged crude oil notes known by their tickers UWTI and DWTI. VelocityShares went on to launch copycat products with Citigroup Inc.; those notes were redeemed earlier this year amid turbulence in the oil market.