JPMorgan Says Emerging Markets May Rally Up to 15% in Six Months
(Bloomberg) -- Emerging-market equities look set to rally up to 15 percent over the next six months as developing-nation assets close the performance gap with their U.S. peers, according to JPMorgan Chase & Co.
Key macroeconomic risks like the trade war are largely priced in to the asset class, according to JPMorgan. Meanwhile, developing-nation growth is on track to converge with economic expansion in the developed world next year, Marko Kolanovic, the bank's global head of macro quantitative and derivatives research, said in an interview Thursday on Bloomberg TV.
That could help spur an emerging-market stock rally between 10 percent and 15 percent over the next three to six months, he added.
The firm's cross-asset strategy has shifted to equal weightings for stocks in developing nations and the U.S. after being all-in on the U.S. in the first half of the year, according to Kolanovic. JPMorgan is among a chorus of strategists and investors from UBS Group AG to Morgan Stanley highlighting value in emerging markets amid warnings from Goldman Sachs Group Inc. to Allianz SE of more pain for the asset class.
"Sentiment is bearish, but we think this extreme consensus presents an opportunity," Kolanovic said. "It warrants allocation now."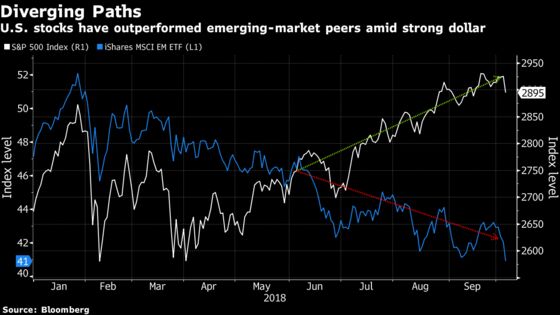 The S&P 500 Index has outperformed MSCI's Emerging Market Index by 21 percentage points this year as developing nations got battered by a strong dollar, rising U.S. interest rates and escalating trade tensions between the U.S. and China. But Kolanovic said he expects that trend to reverse.
"We do think there's more upside" in emerging markets, he said.