JPMorgan Says Don't Play the Downturn, S&P Will Bounce Back
(Bloomberg) -- While many investors are getting anxious about the lateness of the economic and market cycle, it's not yet time to abandon U.S. equities, according to JPMorgan Chase & Co.
"An increasing chunk of the investor base is of the view that one has to be already positioned for the next downturn," strategists Mislav Matejka, Prabhav Bhadani and Nitya Saidanha wrote in a note Monday. "We continue to believe that S&P 500 will recoup the October correction, similar to what it achieved post- the February one."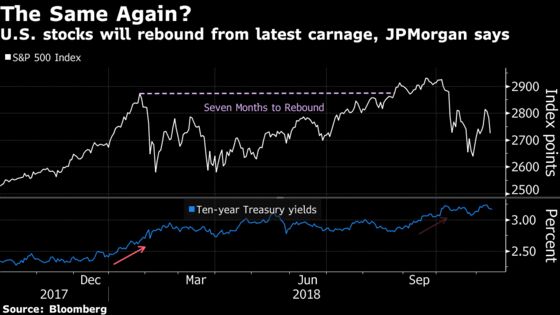 A panoply of negatives has hit the U.S., and global, stocks since the start of October, starting with a rebound in benchmark Treasury yields, which has enhanced the appeal of risk-free investments. Worries over a peak in corporate earnings growth, a continuing escalation of trade tariffs, a slowdown in China's domestic demand and a cooling in the outlook for technology products -- the iPhone prime among them -- have also dented sentiment.
Against that, there's no sign that the economy is rolling over just yet. And the JPMorgan team cited a series of other reasons not to throw in the towel on American equities:
The U.S. yield curve is still upward sloping, and the current spread between two-year and 10-year rates of about a quarter percentage point is historically "consistent" with S&P 500 Index gains of 10 percent or more in the following 12 months.

NOTE: The S&P 500 has slid about 7 percent from its September peak.

Premiums on high-yield corporate bonds "always" jump materially ahead of a downturn, yet U.S. junk spreads are only about 40 basis points off the lows of the current cycle.
Inflation-adjusted interest rates are still low. While in the past six decades, a slowdown never occurred with real rates below 1.8 percent, today they aren't far from zero.
The strategists also took heart from the recent surge in volatility, saying the VIX, or the Cboe Volatility Index, has reached levels where stocks typically did well in subsequent months.
Bottom line is the JPMorgan team calls for an "overweight" position in U.S. equities, where "positioning appears relatively light." It has neutral positions on Europe, where politics remain challenging, and Japan, where a stronger yen could pose a headwind.