JPMorgan Top 2020 Trades Say Short Gold, Buy Raft of Stocks
(Bloomberg) -- JPMorgan Chase & Co. is recommending a risk-on investment allocation for 2020 as the global economy gathers momentum in the wake of the slowdown of recent months.
Stocks are a common theme across the Wall Street giant's top trades, including bets on Japanese banks, German equities and emerging markets, a note by strategists including Nikolaos Panigirtzoglou, Marko Kolanovic and John Normand showed Wednesday. The firm maintains an underweight position in bonds, particularly in high-grade corporate credit, and advised betting on gold to slide.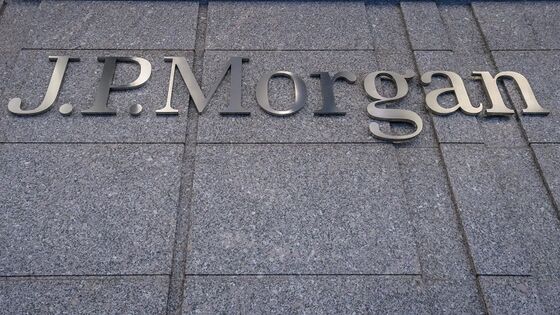 "If cyclical or policy risks recede into 2020, it would be difficult for asset allocators to not accept higher equity weightings," the analysts wrote. That's especially the case given how cash and bonds yield "significantly" less than equities now, they wrote.
The bottoming-out of global manufacturing purchasing manager indexes and strength of U.S. labor markets are lowering U.S. recession risks, the team wrote, adding confidence to the idea that the Federal Reserve's three 2019 interest-rate cuts are simply a mid-cycle adjustment.
They boosted their allocation to government bonds to -3% from -6% versus the benchmark, and cut corporate bonds to -8% from -5%. Front-end Treasury rates are likely to be supported through the first quarter as the Fed appears comfortably on hold, according to the bank.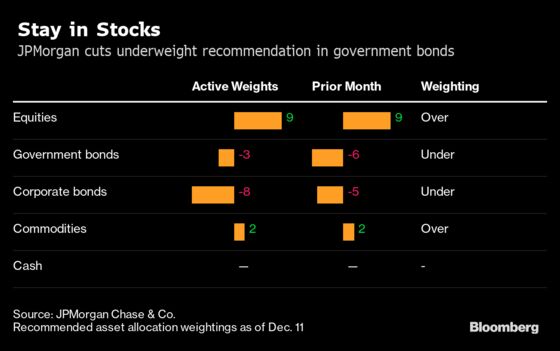 Last December, the strategists recommended a positive stance on equities versus bonds on the idea that earnings would continue to beat expectations. While bonds have rallied this year, they've returned far less than the global MSCI ACWI stock index.
Last year's call on the median level on the Cboe Volatility Index would be between 15 and 16 proved right, as it's just above 15 year-to-date. However, the strategists also recommended implementing hedges across asset classes in anticipation of greater volatility, whereas swings have become muted, particularly in currencies.
JPMorgan flagged the biggest risk in 2020 as the U.S. presidential election, particularly if a progressive candidate like Elizabeth Warren wins the Democratic Party nomination. It recommends going long volatility on the U.S. dollar/Swiss franc pair as a hedge against risks from the primary elections where the Democrats will pick their nominee.