JPMorgan's Marko Kolanovic Says Dollar Hegemony Is Now at Risk
(Bloomberg) -- A backlash against the world's reserve currency may be brewing as rivals to America look to weaken the dollar's hold over the global financial system, says Marko Kolanovic, macro-market wiz at JPMorgan Chase & Co.
President Donald's Trump's isolationist foreign policy is a "catalyst for long-term de-dollarization" among countries from Europe and Asia to the Middle East that have long lamented the hegemony of the U.S. currency, he wrote in a note co-authored with Bram Kaplan.
"With the current U.S. administration policies of unilateralism, trade wars, and sanctions increasingly affecting both friends and foes, the question arises whether the rest of the world should diversify away from the risks of the U.S. dollar and dollar-centric finance," said the quantitative and derivatives strategists.
Whether geo-political rivals take material action to undercut the dollar's privileged position in international finance is anyone's guess. But Kolanovic says it's worth diversifying risk exposures outside American borders regardless of Trump's antics, citing the secular nature of the threat.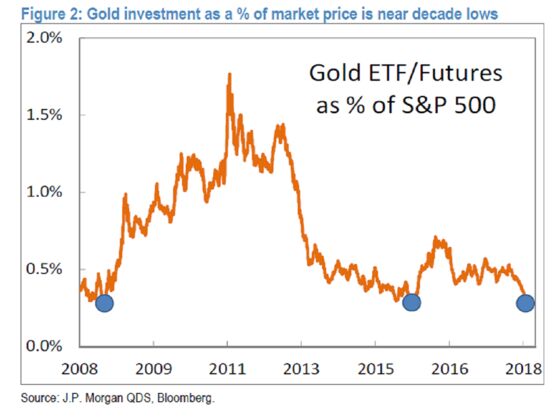 Gold, which tends to benefit from a weaker greenback, also offers a hedge for any tentative push to de-dollarize. And it's looking decidedly cheap right now, according to JPMorgan.
On a metric of demand that aggregates investment in gold exchange-traded funds and futures relative to the S&P 500's price, positioning is near the lowest point in a decade, according to the U.S. bank.
"U.S. unilateral policies risk bringing major powers of China, Europe and Russia closer, and such an alliance could profoundly impact the dollar-centric financial system," JPMorgan concluded.