JPMorgan's Kolanovic Sees Once-in-Decade Trade in Value Stocks
(Bloomberg) -- Beneath the calm surface of stocks lie two groups that if played right pose an almost unprecedented opportunity for when the market turns.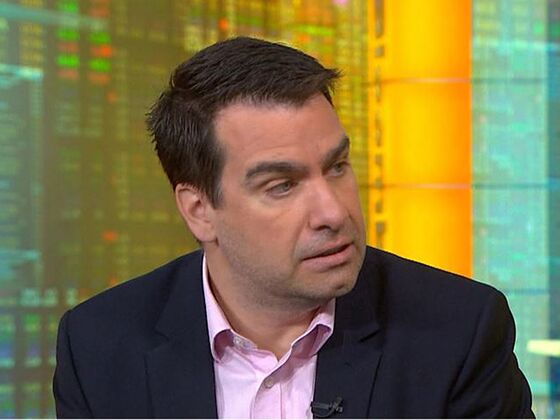 Not now, says Marko Kolanovic, JPMorgan Chase & Co.'s quant guru, and probably not until the summer's over. But when the peace lifts, traders with the wherewithal should put down bets in a convergence trade that is tuned to the relative performance of two otherwise sleepy corners of the market.
One is value stocks, defined as those trading cheap to fundamentals. The other is low-volatility shares, a popular category defined as those trading with muted price swings.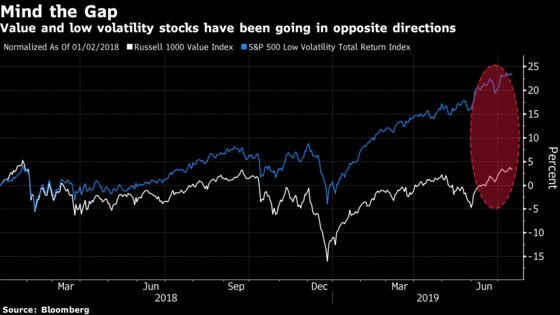 Value companies, which have trailed their growth counterparts and the broader market seemingly forever, now fetch 14.4 times projected earnings. That's a 33% discount to the other group, which is sometimes called "low beta," data compiled by Bloomberg show. The gap is near the widest ever, Bloomberg data show.
"While there is a secular trend of value becoming cheaper and low-volatility stocks becoming more expensive due to secular decline in yields, the nearly vertical move the last few months is not sustainable," JPMorgan strategists led by Kolanovic said in a research note. "The bubble of low volatility stocks versus value stocks is now more significant than any relative valuation bubble the equity market experienced in modern history."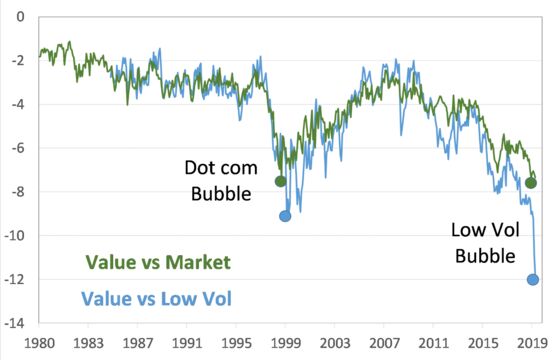 What might trigger the convergence? To Kolanovic, stabilization of economic data and progress in the U.S.-China trade war could do the trick. While recent headlines suggest progress in the trade spat could still be months away, Kolanovic says that something as small as hedge funds changing their positions one way or another during the summer months could start a cascade effect that could eventually turn investors away from this year's market winners.
"This rotation would push significantly higher all the laggards such as small caps, oil and gas, materials, and more broadly stocks with low P/E and P/B ratios," Kolanovic said.
This scenario isn't set in stone. But what's certain is that the smart money has been ramping up equities exposure. Equity beta of hedge funds jumped to the 60th percentile relative to history, it stands at 70th percentile for commodity trading advisers.
The convergence of value and low-volatility multiples could be an unpleasant surprise for exchange-traded fund investors who have gone big on low-volatility stocks. Investors put $6.6 billion into the iShares Edge MSCI Min Vol USA ETF this year in the third-largest inflow among more than 2,000 exchange-traded funds, data compiled by Bloomberg show, the Invesco S&P 500 Low Volatility ETF has had a $2 billion inflow.