JPMorgan's Kolanovic Sees Equity Markets Disagreeing With Fed
(Bloomberg) -- U.S. equity markets, now at all-time highs, are nevertheless probably factoring in an increasing chance of policy error by the Federal Reserve.
That's the conclusion of an analysis by JPMorgan Chase & Co. strategists Marko Kolanovic and Bram Kaplan, who studied equity-market reaction to comments from Fed Chairman Jerome Powell this year. They found an average negative return of 44 basis points from Federal Open Market Committee press conferences (three out of three negative), and of 40 basis points from testimony and other speeches (five out of nine negative).
In all, about $1.5 trillion of U.S. equity-market value was lost following these comments, according to the report, which still acknowledges that "it is not possible to attribute the market impact of each speech with certainty."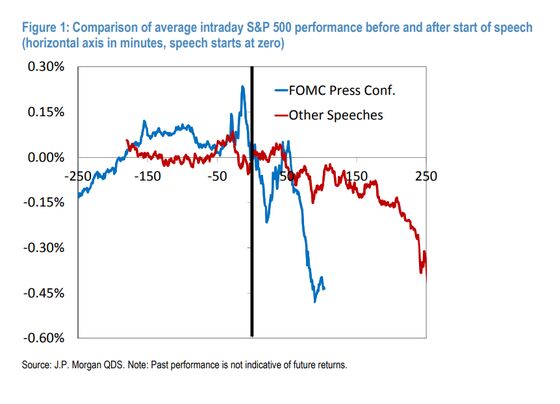 "The equity market likely implies that the Fed is underestimating various risks, and hence is increasing the implied probability of the Fed committing a policy error in the future," the strategists said. "A higher probability of a policy error translates into lower equity prices on the news."
Examples of areas where equity markets may be diverging from the Fed include such statements as "equity valuations are at the high end," "multiple rate hikes are needed/appropriate" and "equity sell-off warrants attention if sustained," Kolanovic and Kaplan wrote.