JPMorgan's Kolanovic Says Markets Wrong to Bet on Early Fed Move
(Bloomberg) -- From a flattening yield curve to a swift rotation in equities, the market moves this week are signaling growing conviction that the Federal Reserve will join the hawkish shift among the world's central banks by raising interest rates late next year to cool the economy.
But JPMorgan Chase & Co. strategists led by Marko Kolanovic say that fear is misplaced -- seeing some technical factors like month-end rebalancing behind the moves.
"It is unlikely that tightening will start early (as priced yesterday), immediately after the taper, and a few months before important elections," the strategists wrote in a note to clients Thursday. "Historically, the Fed has not followed other smaller central banks, and we don't think that will be the case this time either."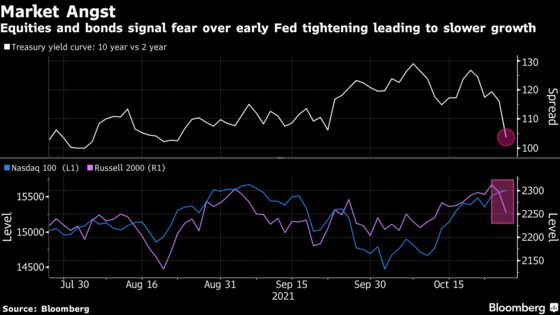 Global sovereign-debt yield curve collapsed Wednesday, with U.K. 30-year rates sinking the most since March 2020 and yields on similar maturity U.S. Treasuries falling, as the U.K. cut issuance plans and the Bank of Canada ended its stimulus program. On Thursday, 30-year Treasury yields slipped below those on 20-year bonds, a sign of speculation that growth will slow as short-term rates move higher.
At the same time, equity traders have rushed back to growth stocks this week while dumping economically sensitive shares like energy and small-cap companies. The tech-heavy Nasdaq 100 on Wednesday beat the Russell 2000 by 2 percentage points, the most since July.   
Yet not all of the moves may have been driven by the economic outlook. To Kolanovic and his colleagues, the volatility in bonds reflected a month-end rebalance from funds like pensions that have to buy fixed-income securities after a strong rally in equities during October. News of some funds closing their steepener positions at a loss may have exacerbated the move in yields, he said.
Investors should continue to embrace the reflation trade, with Covid trends improving and corporate earnings coming in better than expected, according to the strategists. 
"The move yesterday was a large technical overshoot that will revert," the strategists wrote. "Month end flows will be mostly done today (the effect tends to be pre-positioned and finish the day before month end), and there should be a strong bounce in equities, yields, and commodities."