JPMorgan's Kolanovic Says Bad Liquidity Is Behind Stock Chaos
(Bloomberg) -- On the way down, and on the way up, a common theme unites the drama in equities over the last six months: thin liquidity.
That's according to JPMorgan strategists led by Marko Kolanovic, who say the market's inability to absorb trades easily conspired with other fundamental factors in fomenting wild swings. In the fourth quarter, the firm's measure of market depth based on S&P 500 e-mini futures dropped to less than one-third the average seen during other sell-offs of the past decade.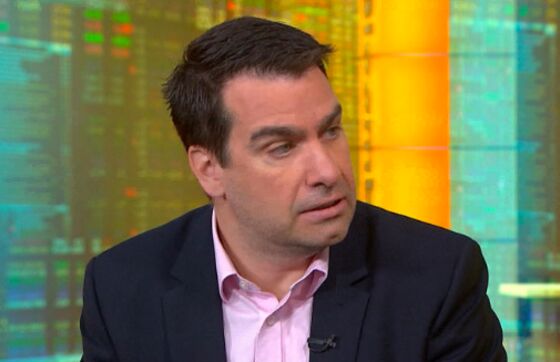 To Kolanovic, it's key to understanding why stocks bounced back so fast even as many buyers sat on their wallets. While the S&P 500 has surged 20 percent from its December low, almost every category of investors tracked by JPMorgan, from individuals to hedge funds and computer-driven traders, have shown little inclination to chase the rally. Their equity exposure sits at the low end of a historic range.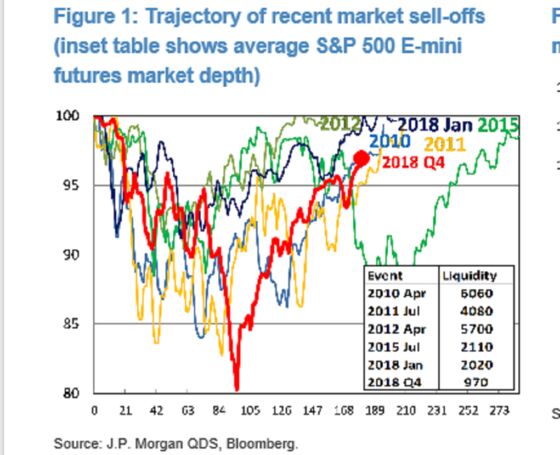 "Liquidity thus explains how the market could go down and up so much on a relatively small change in positioning, and we would argue a small change in fundamentals since December," Kolanovic wrote in a note to clients. "If liquidity was only a half or a third, it is reasonable to expect two or three times the speed of market moves for a particular level of flows."
Dwindling liquidity is often dragged into discussions of market meltdowns. In December, for instance, when the S&P 500 plunged toward the brink of a bear market, both President Donald Trump and strategists from Goldman Sachs flagged it as potentially escalating the sell-off.
JPMorgan's latest note highlighted a less scrutinized phenomenon: liquidity's role in driving stocks higher. While the strategists didn't give a reason why liquidity has stayed thin, they consider it part of an environment that sets the stage for further gains.
"Given liquidity, it is plausible that just short covering, buybacks, dealers' gamma hedging, and some limited re-leveraging drove the entire recovery," Kolanovic said. "This, in turn, opens the possibility that the current rally can continue during the spring."
The strategists urged investors to embrace risk, citing a dramatic reversal in central bank monetary policy. In the latest policy update Wednesday, Federal Reserve officials slashed their projected interest-rate increases this year to zero from two while deciding to end the drawdown of the central bank's bond holdings in September.
"This is an enormous shift in monetary policy, which we believe is not fully priced into various assets such as risk-on currencies, and equities, commodities, and other value assets," the strategists said. "It is clear that the dovish turn is here to stay."