JPMorgan's Kolanovic Rebukes Bubble Warnings, Urging Buy the Dip
(Bloomberg) -- With a battle between retail investors and short sellers whipping up market volatility, Marko Kolanovic is urging investors to ignore warnings about a bubble and buy the dip on any fallout from the skirmish.
While the frenzied trading in heavily-shorted companies and penny stocks signals euphoria among day traders as the broader market declines, the JPMorgan Chase & Co. quantitative strategist says professional investors are far from bullish. The firm's model tracking computer-driven strategies to stock-picking funds shows their equity positioning sat in the 30th percentile of a 15-year range.
The low exposure, Kolanovic says, means money managers will likely boost holdings, pushing stocks higher in the long run, as the economy gathers momentum amid the rollout of pandemic vaccines and government support.
"Currently there are no signs of exuberance in institutional equity positioning," Kolanovic wrote in a note to clients Wednesday. "Any market pullback, such as one driven by repositioning by a segment of the long-short community (and related to stocks of insignificant size), is a buying opportunity."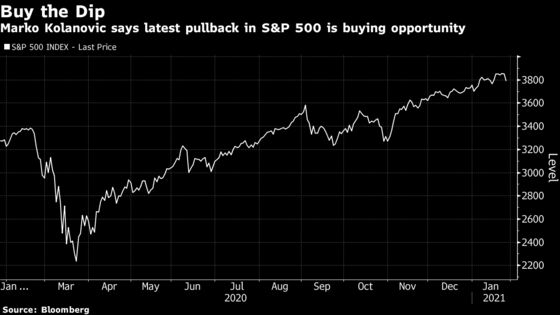 Kolanovic's view runs counter to a growing chorus of Wall Street warnings that stocks are due for a pullback amid signs of speculative excess. Earlier this month, Bank of America Corp. strategists led by Michael Hartnett said a bubble is forming in asset prices, predicting a market correction and for positioning to peak in the first quarter. Mike Wilson, chief U.S. equity strategists at Morgan Stanley, this week said he expects a correction in the S&P 500 to begin "imminently."
U.S stocks sold off Wednesday, with the S&P 500 falling as much as 2.1%, on course for its biggest decline since October. Darling stocks of hedge funds bore the brunt of selling as some of the industry's bearish wagers went awry, forcing money managers to unload profitable bets to cover losses. Retail traders whipped up in chat rooms have charged into heavily shorted names, spurring squeezes in stocks from GameStop Corp. to AMC Entertainment Holdings Inc.
To Kolanovic, one yardstick to define an asset bubble is simple: A quadrupling in prices over a period of three years. By this measure, the S&P 500 doesn't fit the bill as it's gained only a little over 30% over the last three years. But pockets of the market, such as electric-vehicle and solar energy stocks, do exhibit signs of froth, he says.
"One can short the market segments that fit the profile of a bubble and go long value and cyclical stocks that are expected to benefit from the Covid recovery and reopening," Kolanovic wrote. "Short-term turmoil, such as the one this week, are opportunities to rotate from bonds to equities."