JPMorgan's $50 Billion Fund Looks for Shelter in Junk Bonds
(Bloomberg) -- One of JPMorgan Asset Management's largest mutual funds is betting junk bonds will help shelter it from the trade war.
The firm's $49.6 billion Global Income Fund has slashed its equities exposure to 31 percent at the end of October from 43 percent at the beginning of the year and put part of the proceeds into U.S. and European high-yield debt, according to co-manager Eric Bernbaum. The fund cut its stock holdings before the October sell-off, and turned to junk bonds where low default rates, declining leverage and strong fundamentals abound, he said.
"Markets are now much more susceptible to negative shocks than they were coming into the year," New York-based Bernbaum said in a telephone interview. "The areas of fixed-income that we actually find to be relatively attractive are high-yield credit markets both in the U.S. and in particular in Europe. You are getting paid very attractive carry now to take on that risk."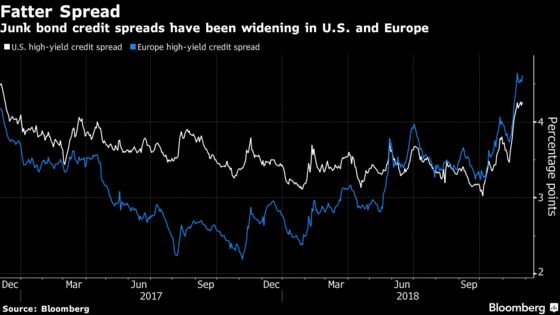 U.S. junk bonds comprised 28 percent of the fund at the end of October, while 7 percent was invested in European high-yield corporate bonds, according to JPMorgan.
The $1.7 trillion asset manager is not alone in betting on junk. UBS Group AG sees the asset class performing best in U.S. credit markets next year on expected low default rates and Wells Fargo & Co. reckons investors are getting paid "handsomely" for holding the notes as fundamentals are still "sound".
While U.S. junk bonds have lost almost 3 percent this quarter, the yield they offer over Treasuries has risen to 4.3 percentage points.
In addition to the trade war, Bernbaum cites slowing global growth, tighter financial conditions and rising political uncertainty including Brexit as major risks in 2019. The fund has sold out of investment-grade corporate bonds -- a sector at risk of further downgrades -- and added to its cash holdings, he said.
"We're taking down risk," he said.
Below are edited comments on Bernbaum's other market views:
Longer term we do expect the dollar to weaken but in the intermediate term, we see the dollar being range-bound. You might see things such as a bid for haven assets supporting the greenback. Ten-year Treasury yields around 3.25 percent represent fair value.
We fully expect a Fed rate hike in December and I think markets are pricing that in as well. Then in 2019, we're expecting another two to three hikes. We see a pause in the middle and latter half of next year, as the Fed re-evaluates the economic numbers coming through in the U.S. The eurodollar market is currently pricing less than 30 basis points of tightening for 2019.
We've reduced our emerging market equities exposure by more than half over the course of the year, and debt quite meaningfully down to 2 percent. That reflects our thinking about the trade war. We think the trade war can go on for quite some time -- it's one of the few areas where both Democrats and Republicans tend to agree in wanting to improve the U.S. trade treaties with China.
The reduction in equity exposure has gone into a few areas, one of them being high-yield credit -- the other U.S. agency mortgages. They have a high correlation with government bonds, negative correlation with risk assets particularly equities, high liquidity and offer extra yield over Treasuries.
We've also been allocating to cash and very short duration, cash-like instruments in the U.S. where you can get a yield of 3 percent or more in some cases. You're now being paid to take that risk. That is something to think about -- reducing equities and barbelling that between cash, agency mortgages and high-yield credit. You actually increase yields in the portfolio, reduce the level of risk and improve liquidity.