JPMorgan Reverses Long-Term Yen View as Crisis Roils Markets
(Bloomberg) -- The coronavirus crisis has prompted JPMorgan Chase & Co. to rethink its long-term view on Japan's currency, and the bank now sees a bias for the yen to appreciate over time.
Little more than a year ago, JPMorgan's Tohru Sasaki, a veteran market watcher who once managed Bank of Japan currency dealing, hypothesized that the yen was entering a new era of depreciation. He cited three key developments that would depress the exchange rate. But all three have changed thanks to recent events:
The record pace of foreign direct investments by Japanese companies looked like a long-term trend before Covid-19. But with reduced global growth and a greater focus on balance-sheet strength, there may be a sustained outbound FDI slowdown.
Similarly, the record outflows of portfolio capital may slow, as Japanese fund managers confront much lower bond yields abroad thanks to massive monetary easing by the Federal Reserve and others.
Japan's trade balance may get a sustained boost from the drop in crude oil prices, easing the dynamic of diminished surpluses (and occasional deficits) that had been hurting yen flows.
"We now see the risk of multi-year yen appreciation," Sasaki, JPMorgan's head of Japan markets research, and colleagues wrote in a May 12 note. "We expect the yen depreciation era (a sustained period of substantial yen depreciation in real terms) started by Abenomics to end."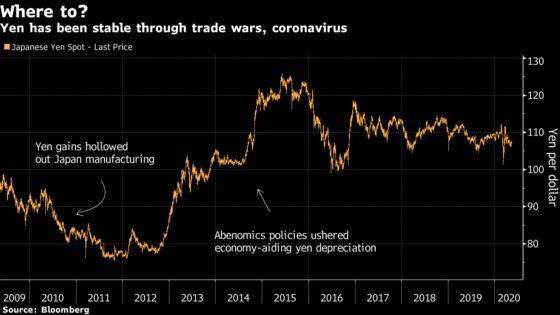 JPMorgan's official forecasts, at 107 per dollar for year-end and 106 for the first quarter of 2021, have the currency essentially flat. It was at 106.94 at 10:21 a.m. in Tokyo. But Sasaki highlighted economic and policy trends that could see sustained gains.
Besides the above dynamics that have shifted, Japan and the U.S. may be on quite different trajectories for inflation looking into 2021, with potential exchange-rate consequences, JPMorgan analysis suggests. The return of deflation is a mounting concern in Japan, whereas the U.S. could see price gains resume, in part thanks to a stronger set of stimulus measures.
The BOJ itself has indicated apprehension about a resumption of stubborn trends that Abenomics was aimed at breaking. Companies might focus on conserving cash even after the coronavirus crisis passes -- a pattern that could see a prolonged period of pressure on spending and income, the BOJ said in a summary of opinions shared at the March policy meeting.
"Inflation expectations for Japan have not changed much so far, while U.S. inflation expectations are returning and the Japan-U.S. real interest differential is becoming more negative," the JPMorgan analysts wrote. "This also suggests that yen appreciation pressure could grow."
Sasaki and his colleagues aren't the only ones picking up on a change in fund flows. HSBC Holdings Plc last month also pointed to reduced merger and acquisition demand and current-account surplus dynamics. That's helped ensure the yen stays a haven in the "short, medium and long term," HSBC analysts wrote.
To be sure, Sasaki flagged one long-term scenario for yen depreciation. If Japan does see a return to the pre-Abenomics trends of deflation and economic stagnation, "public opinion will support fiscal financing by the BOJ." And if government spending financed by debt monetization proved open ended, the yen would "start losing value substantially," Sasaki wrote.