JPMorgan Is Downbeat on Hong Kong Stocks
(Bloomberg) -- Hong Kong stocks will be one of Asia's worst bets next year as a slowing Chinese economy and higher U.S. borrowing costs pressure earnings, according to JPMorgan Securities (Asia Pacific) Ltd.
JPMorgan is underweight on the city's stocks and has an end-2019 target of 12,600 for the MSCI Hong Kong Index, representing a 12 percent drop from Monday's close. It is also underweight on Malaysia, but other countries in the region -- including China -- are rated neutral or overweight.
"While global liquidity is likely to remain largely stable, the challenge of Hong Kong is its high correlation with the China economy," Cusson Leung, head of property and conglomerates research, wrote in a report.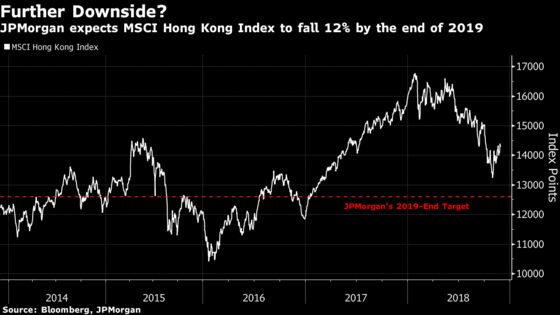 Signs of an economic slowdown in China have weighed on stocks this year, with the pressure multiplied by the U.S. trade dispute. The MSCI Hong Kong Index is down 10 percent year-to-date, compared with a 17 percent tumble for MSCI China. While JPMorgan is cautious on China for the next three to six months, it forecasts MSCI China to rise close to 10 percent between now and the end of 2019, helped by policy stimulus and reforms.
For Hong Kong stocks, Leung said earnings revision momentum will continue to trend down in the first half of next year. Expectations of a slowing economy have cooled the property sector, and the residential market is unlikely to recover before the end of the first quarter, he wrote. Further depreciation of the yuan may also erode mainland tourists' purchasing power, and the spillover from the slowdown in business momentum in Macau gaming is "alarming."
JPMorgan forecasts four rate hikes by the Federal Reserve in 2019. Rising interest rates in the U.S. pose a challenge to Hong Kong as its currency is pegged to the greenback.
The target for MSCI Hong Kong contrasts with Goldman Sachs Group Inc.'s, which expects the gauge to rise to 15,199 next year. Even with the much more bullish target, Goldman rates the gauge underweight and expects it to underperform Asian peers, saying earlier this month that the city's property prices could fall by as much as 20 percent in the next two years.