JPMorgan Asset Says It's Time to Buy Bonds as Growth Risks Mount
(Bloomberg) -- JPMorgan Asset Management says its time for investors to boost allocation to bonds to cushion their portfolio amid mounting risks to global growth.
"It's going to be so useful if things start to get out of control," Kerry Craig, a global markets strategist at JPMorgan Asset, said at a briefing in Sydney. "Think about the drag that driving with your handbrake creates, and that's what bond markets are viewed as at the moment."
Global growth is going to slow after a decade-long expansion and it won't take much to bring about a recession -- be it trade, policy decisions, a spike in oil prices, geopolitical risks, tightening liquidity or "any other black swans that you can't identify or the sheer length of this expansion," Craig said. The recent spike in the CBOE Volatility Index, or VIX, was an indication of how much nervousness there is among investors, he said.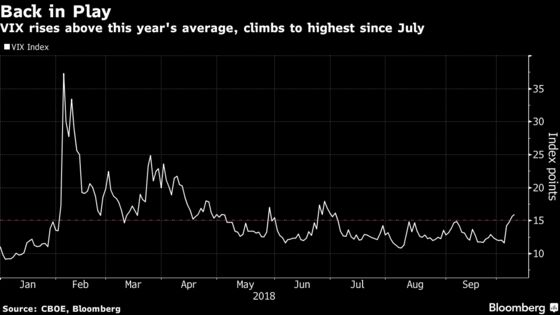 The International Monetary Fund warned Wednesday that investors may be ignoring the risk that financial conditions could tighten sharply. A selloff in Treasuries that's seen the U.S. 10-year yield jump to a seven-year high is prompting investors such as Pacific Investment Management Co. to say that bonds look the most attractive versus stocks in a decade, as interest rates climb.
"Being prepared for that downturn has become more key," Craig said, adding that JPMorgan Asset has become "slightly more overweight" on duration.
The 10-year yield, at 3.21 percent on Wednesday, may rise to 3.50 percent to 3.75 percent, Craig said, without giving a time-frame for the move.
Most of the investors JPMorgan Asset has spoken to have had "a huge" overweight allocation to equities, have not allocated to bonds for "a very, very long time" and have been holding too much cash, Melbourne-based Craig said.
While bond and equity markets have become more correlated, that won't persist in a downturn because bond yields are being driven by growth as the inflation outlook remains benign, Craig said. JPMorgan Asset expects the correlation between equities and bonds to remain negative, he said.
"What is driving yields higher is real yields and that aligns to better growth, it's not inflation," Craig said. "There is a downside to growth which could massively materialize, then yields fall and bonds do their jobs."