JPMorgan Asset Likes Yen as Hedge in Tough Market Environment
(Bloomberg) -- As investors adjust to the prospect of a slowing global economy, JPMorgan Asset Management is turning to the yen for protection from an uncertain outlook.
"The yen has the attraction that it's still very cheap versus its history," Olivia Mayell, managing director, multi-asset solutions, at the $1.7 trillion investment firm, said in Sydney. "Our fundamental view is that it does get a little bit stronger from where it's been regardless of market stress. It's one of the cheaper hedges you can put in the portfolio today."
Other hedging tools that more closely track volatility -- like The Cboe Volatility Index, known as the VIX, or buying put options on the S&P 500 Index -- have become more expensive, said London-based Mayell, who is part of a team overseeing the JPMorgan Global Macro Opportunities Fund.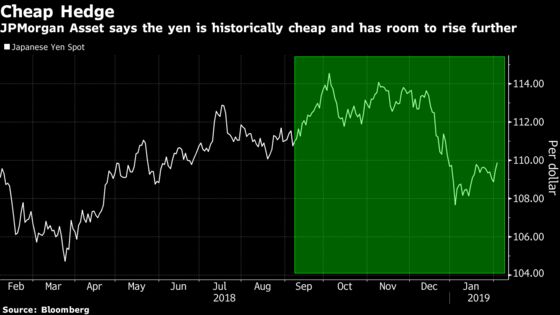 The yen, a haven in times of risk aversion, has rallied about 4 percent from its October low against the dollar, with a gauge of trader net long positioning hitting its highest in two-and-a-half-years. The yen will be at 108 per dollar at the end of this year, according to a median estimate of currency analysts. It traded at 109.96 Wednesday morning in Tokyo.
"As growth rolls over, the market starts to think what does that mean next," Mayell said. "If investors decide they don't want to take huge amounts of risk, the yen does look quite good value."
JPMorgan Asset Management closed short positions in emerging-market currencies like the Mexican peso and the South African rand after the Federal Reserve signaled last week a pause in its rate-increase trajectory, Mayell said.