JPMorgan Asset Bets Australian Dollar Will Make a Comeback
(Bloomberg) -- Australia's dollar had a tough year in 2018 and is still a popular short, but JPMorgan Asset Management sees potential for the beaten-down currency to make a comeback.
The $1.7 trillion money manager took a small long position in the Aussie late last year, according to Julio Callegari, lead portfolio manager for local rates and FX in Asia. A dovish Federal Reserve, a likely global economic growth recovery in the second half of the year and thawing U.S.-China trade tensions should outweigh domestic risks Down Under, including a worsening housing slump, he said.
"We'll look at the currency with a bias to add," Hong Kong-based Callegari said in a telephone interview. He thinks the Aussie could rise to 75 U.S. cents over the long term, from 70.5 cents as of 3:45 p.m. Sydney time Thursday. However, he's waiting for more concrete signs of a pickup in worldwide economic growth before ratcheting up his long position.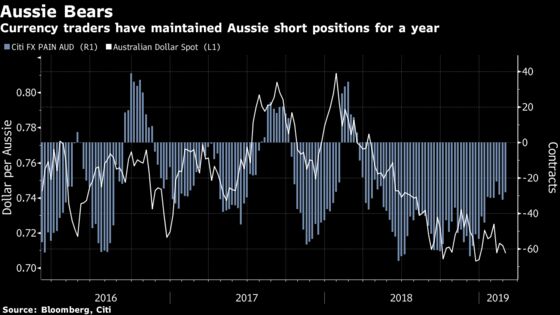 Australia's dollar tumbled 9.7 percent to become the worst-performing Group-of-10 currency last year as rising U.S. interest rates and America's trade war with China dampened demand for riskier assets. While some global pressures have abated, a slowing domestic economy and dovish Reserve Bank of Australia are spurring funds to maintain short bets on the Aussie.
Investors are returning to developing-nation assets after a rout last year, and Callegari has his own favorites. He likes China's yuan, as well as Indonesia's rupiah and bonds for carry amid a favorable economic backdrop. He favors the short end of the curve for India bonds, but is cautious on the rupee amid geopolitical and election risks.
China's yuan is the top-performing Asian currency this year, gaining 2.5 percent against the greenback. The rupiah, which slid 6.1 percent last year, is up 1.7 percent this year.
Callegari's prediction that Australia-specific growth could be slower for now has some data on its side.
The central bank kept benchmark interest rates at a record-low 1.5 percent on Tuesday. On Wednesday, the Aussie got a double whammy from worse-than-expected economic growth data, followed by JPMorgan Chase & Co's Sally Auld changing her RBA forecast to cuts in July and August.
Read: FX Traders Pounce on Slowing Growth From Australia to Canada
JPMorgan is not the only firm upbeat on the Aussie. Bank of America Merrill Lynch reckons investors should not disregard the impact of a positive Chinese spillover on the currency.
"A likely recovery in Chinese growth later this year keeps us comfortable with projecting medium-term Aussie appreciation,'' strategist Adarsh Sinha wrote in a note Wednesday.
Callegari's optimism about the global-growth story comes amid talks that the U.S. and China are close to clinching a trade deal -- although it may not necessarily spell the end to the wider trade dispute. Still, working toward a deal is better than all-out conflict, and this bodes well for the Aussie, he said.
"We already saw a significant slowdown in the U.S.," Callegari said. "That's much more favorable to emerging market and the cyclical currencies."