JPMorgan Asset Allocation Takes `Significant' Credit Underweight
(Bloomberg) -- JPMorgan Chase & Co.'s Global Asset Allocation group is still positive heading into the fourth quarter, just with more hedges.
The changes to overall asset allocation involved boosting government bonds to a 1 percent active weight from minus 2 percent last month, and cutting corporate bonds to a minus 8 percent weight from a prior minus 5 percent.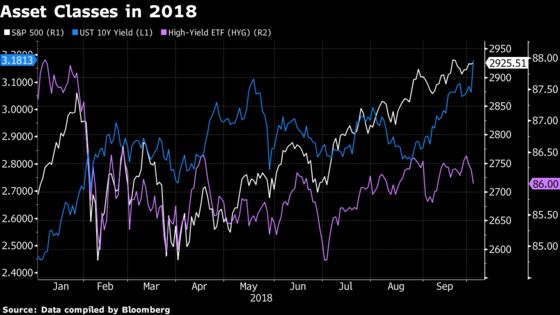 "A decent credit underweight as a macro hedge against our still bullish asset allocation stance" is warranted, especially given risks from Italian political stress and the U.S. tariffs on China, strategists led by John Normand wrote in a note Wednesday. "Credit spreads have tightened significantly since the beginning of September so we believe the entry point is currently attractive for re-entering a significant credit underweight."
The strategists augmented the macro hedge with more local ideas, such as EUR/CNH risk reversals and an overweight in health care versus financials in emerging-market equities to protect the model portfolio against potential fallout from a U.S.-China trade war. They also suggest guarding against Italian and Brexit risks via an underweight positive in European equities versus emerging-market and U.S. stocks.