Jokowi Win Puts Indonesian Stocks on Course for Record Rally
(Bloomberg) -- With unofficial vote counts pointing to a second term for Indonesian President Joko Widodo, the country's stocks are set to extend a pre-election rally that's added $53 billion in market value in the past six months.
Banks and construction companies may gain more than others as the incumbent is likely to carry on the $350 billion infrastructure building boom that became a highlight of his first term, according to Jeffrosenberg Tan, strategist at PT Sinarmas Sekuritas. Investors, who have been underweight on Indonesia because of uncertainties surrounding the election, will return, he said.
Widodo, known as Jokowi, is poised to win a second five-year term after unofficial quick counts by private pollsters showed him in a commanding lead over challenger Prabowo Subianto. The president has pledged to complete the 2,765-kilometer trans-Sumatra toll road as well as improve internet connectivity in Southeast Asia's biggest economy. His re-election may guarantee policy continuity and ensure continued flow of foreign funds, according to Tan.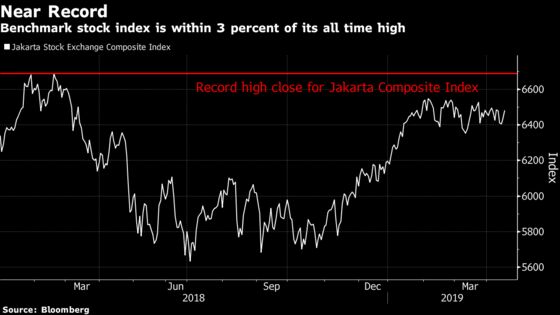 "Equities market is expected to gain in the medium term as a landslide win leaves no room for dispute," Tan said. "Investors, who have been underweight on stocks have to buy back. The flow of foreign direct investment will rise as the victory of the incumbent will ensure political and regulatory stability."
The benchmark Jakarta Composite Index has rallied 10 percent in the past six months, boosting its market value to $522 billion. The index is 3 percent shy of a record, with a gauge of construction and property stocks leading the rally before the vote.
The iShares MSCI Indonesia exchange-traded fund rose 2.1 percent at 10:07 a.m. in New York to its highest intraday level in seven weeks.
Foreign investors, who have been net sellers of Indonesian equities in the past two years, have pumped in $961 million this year, in addition to channeling $3.8 billion into the country's sovereign bonds, according to data compiled by Bloomberg.
PT Sucorinvest Asset Management, which has been accumulating construction shares along with PT Telekomunikasi Indonesia and PT Astra International before the vote, expects the benchmark to reach a record in the next few days, according to Chief Executive Officer Jemmy Paul.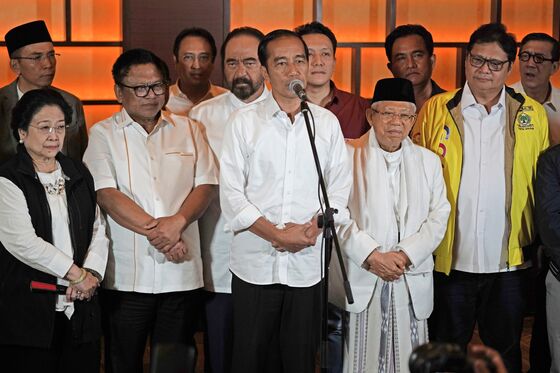 "The sizable gap between Jokowi and Prabowo should give strong legitimacy to the outcome. It will be difficult for Prabowo to dispute the outcome of the election," Paul said. "Baring any sharp correction in global equities market, I think there's a strong chance that the Jakarta Composite Index will test its record high level in the next few days."