Jokowi Is Open to Wider Indonesia Fiscal Gap to Combat Virus
(Bloomberg) -- Indonesia is open to adding to its $28 billion fiscal stimulus to fight the coronavirus outbreak and widening its budget deficit if needed, President Joko Widodo said.
If the pandemic lasts for more than six months, the government can raise the budget deficit target beyond the current goal of 5.07% of gross domestic product, Widodo said at a briefing with select foreign news organizations in Jakarta on Monday.
"The new regulation has set no cap on the budget deficit," Jokowi, as the president is known, said. "If the virus lasts longer than six months, we definitely can go for a wider deficit."
Indonesia has unveiled three fiscal stimulus packages worth 436 trillion rupiah ($28 billion) and temporarily scrapped legal limit on the budget deficit to tackle the economic fallout of the pandemic that's threatened the growth outlook for Southeast Asia's largest economy.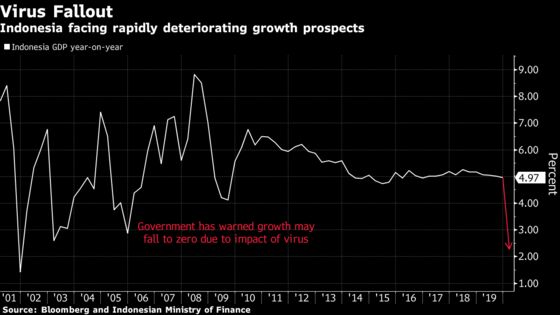 Read More: Indonesia Scraps Deficit Ceiling as It Ramps Up Virus Response
Jokowi said the government's focus on providing a social safety net to the poor and informal sector workers will ensure there's no social unrest stemming from stringent social-distancing measures, which often render hundreds of thousands of people jobless.
The government has set aside billions of dollars to boost cash and food handouts to low income groups and launched an unemployment card to extend financial help to those being laidoff and waiting for jobs. An estimated 1.6 million people have been laid off since the outbreak of the pandemic, Tempo newspaper reported, citing Doni Monardo, chief of the government task force for Covid-19.
"There is a relevance between the coronavirus and the economy," Jokowi said. "They say, 'Jokowi chooses economy over lives.' It's not like that. If people don't eat, they get sick and it will be worse. This is not one thing prioritized over the other."
Jokowi said PT Perikanan Indonesia, a state-owned company, will procure chicken and eggs from farmers to prevent a collapse in prices.
Jokowi has ordered a ramp-up in testing to prevent the virus from spreading after the pandemic killed 399 people and infected more than 4,500 people since the first positive case was reported early in March. The world's fourth most populous nation has so far only tested around 27,000 people out of its 270 million population, according to data from the Ministry of Health.
"In the beginning, we faced problems procuring personal protective equipment, PCR test kits, rapid test kits, because every country was on the hunt for them," Jokowi said. "The competition was brutal."
The president said he favors extending a partial lockdown imposed in the capital Jakarta to other large cities, such as Semarang, Surabaya, Bandung and Makassar. Jokowi defended Indonesia's response to the virus outbreak, saying it has taken appropriate measures to contain the pandemic and ramped up testing and contact tracing.
This week, authorities will extend stringent social distancing measures, including closing offices, a ban on gatherings of more than five people and limiting transportation services to some satellite cities outside Jakarta. The region known as Greater Jakarta is home to about 30 million people and account for more than two-thirds of cases.
An ambitious plan to build a $34 billion new capital on Borneo island was no longer the government's priority, which instead is focused on dealing with the fallout of the virus pandemic, Jokowi said.