Billionaire's Bigger Stake in Australian Salmon Producer May Stand in Way of JBS Takeover
(Bloomberg) -- JBS SA's plan to acquire Australia's Huon Aquaculture Group may be under threat after mining magnate Andrew Forrest amassed a stake large enough in the salmon producer to potentially block the deal.
Forrest and his family office increased their holding in Sydney-listed Huon to 18.5% from 7.3%, according to an exchange filing Wednesday. The investment underscores the progress Huon has made in improving environmental practices in an industry with a "dreadful" reputation, Forrest said in an interview. 
The move could challenge JBS's plan to acquire Huon as a way to expand into the fish business. The Sao Paulo-based meat giant announced the $314 million deal last week, saying it has the backing of the majority shareholders and is set to be completed by year-end following approval by Australian authorities. 
"We were always happy to continue investing in Huon," Forrest told Bloomberg News. "When JBS came in, it accelerated the urgency because we know JBS -- because we're in the cattle industry."
Known as the billionaire founder of iron ore giant Fortescue Metals Group, Forrest has become increasingly active in agribusiness in recent years, buying pastoral stations and one of Western Australia's biggest meat processors, Harvey Beef. With a PhD in marine science, he's also made a push into aquaculture, acquiring oyster farming operations in Albany, Western Australia, last year and focusing much of his foundation's work on ocean conservation, tackling issues like overfishing and plastics pollution.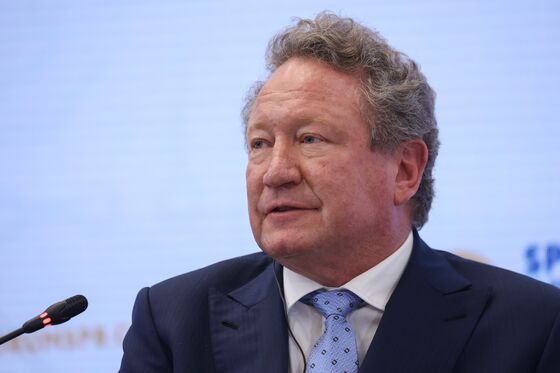 Forrest wants JBS to commit to improved environmental and animal husbandry standards, both in salmon farming and in JBS's extensive meat farming operations. In a statement issued by his family investment fund Tattarang Pty, he highlighted steps the new ownership of Huon should undertake in pursuit of sustainable salmon farming practices. 
These include the replacement of fish from fishmeal, moving to completely carbon neutral production and applying leading animal welfare standards and practices, according to the statement.
"There's so much more to the food industry than just making a dollar," Forrest said by phone. "If your top priority is not animal welfare, 'no pain, no fear,' or equal top priorities with the environment, then we challenge you to make it so," he said, adding that those considerations weren't mentioned in the 138-page scheme of arrangement document. 
JBS Australia Chief Executive Brent Eastwood responded to Forrest's investment in Huon, saying that the company shares Tattarang's views that "good business must also be good for the environment." JBS will provide details on its commitment to animal welfare and environmental sustainability to all Huon shareholders when the scheme materials are released, Eastwood said. 
Currently, one of the problems with fish farms is that they consume more fish than they produce, Forrest said. 
"That has to completely stop if fish farming is going to be an alternative to wild caught fish, which is a very unsustainable way to go," he added.