Japan Stocks Decline as Trade-War Woes Jostle With Solid Data
(Bloomberg) -- Japanese stocks fell, with the Topix closing at its lowest since March, as concerns of a trade war overwhelmed solid U.S. economic data.
A slump in trading companies and chemical group kept the Topix from recovering from its loss on Monday, the steepest in more than three months. Japanese shares slid for a second day even after U.S. equities climbed in New York on data that showed manufacturing expanded more than forecast. The U.S. is set to impose tariffs on $34 billion of Chinese goods on Friday.
"Investors are staying alert to trade problems, so they'll wait," said Kazuhiro Takahashi, an equity strategist at Daiwa Securities in Tokyo. "Trade problems will continue for Japan and Europe even after the planned imposition of tariffs against China begins later this week."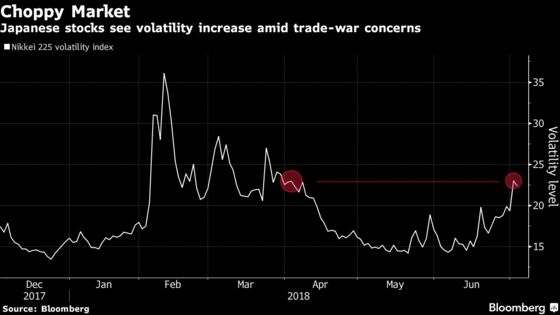 Topix -0.2% to close at 1,692.80, lowest since March 26
Nikkei 225 -0.1% to close at 21,785.54
Yen -0.1% at 110.96 per dollar after weakening 0.1% on Monday
Trading companies: Mitsubishi Corp. -0.8%, Itochu -1.1%, Mitsui & Co. -0.7%
Chemical group: Kao -1.3%, Unicharm -1.7%, Lion -3.3%
Uzabase +9.8% after the company says it will buy Atlantic Media's Quartz