Japanese Stocks Have Never Been This Cheap Relative to S&P 500
(Bloomberg) -- Japanese stock valuations have trailed U.S. levels for a long time, but the recent rebound from the coronavirus selloff has driven the gap into new territory.
The Topix index's climb into bull-market zone has left it trading at around 16 times earnings estimated for the next year, near the highest level since 2013. Yet the multiple on the S&P 500 Index has surged even faster to around 22 times. While Japanese stocks have been at a discount consistently since 2013, the gap now is the largest in data compiled by Bloomberg going back to 2005.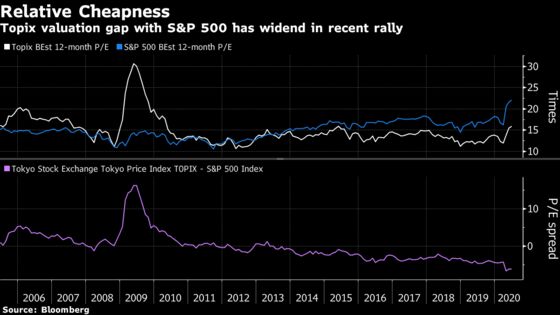 "While U.S. stocks have enjoyed ever-greater multiple expansion, Japan has seen relentless multiple compression," CLSA Ltd. strategist Nicholas Smith wrote in a report Wednesday. "Japanese valuations are tightly correlated with foreign buying, and foreign investors are now heavily underweight Japan."
Overseas traders were net sellers of the nation's equities in 14 of the past 16 weeks, withdrawing a total of nearly 7.3 trillion yen ($67 billion) in stocks and futures since mid-February. Smith said the pessimism of foreigners was unwarranted given Japan's relatively light toll from the pandemic.
UBS Group AG shares a similarly positive view. Japan is one of the best-placed markets to benefit as the global lockdowns gradually ease, according to strategists led by Niall MacLeod. The broker maintained its overweight view on the country's stocks in a note dated Thursday, citing their "cyclicality" as economies start to rebound as well as their cash-generating capabilities.