Japanese Stocks Erase Losses Ahead of U.S.-China Trade Talks
(Bloomberg) -- Japanese stocks eked out gains on Tuesday, reversing the day's losses, ahead of trade negotiations between the U.S. and China.
Telecommunications and railway companies provided support for the Topix index, while Japanese machinery and chip-related firms remained lower. The benchmark started the day lower in the wake of disappointing earnings from two American industry bellwethers and after U.S. prosecutors filed criminal charges against Huawei Technologies Co., China's largest smartphone maker.
High-level U.S.-China trade talks are set to start in Washington on Wednesday, with President Donald Trump expected to meet with Chinese Vice Premier Liu He. The Chinese delegation plans to offer a big increase in purchases of U.S. farm products and energy as well as modest reforms in industrial policies, the Wall Street Journal reported.
"Chinese stocks recovered from lows earlier today, providing support to Japanese stocks," said Toshio Sumitani, chief market analyst at Tokai Tokyo Research Institute Co. "Although equity markets haven't fully priced in U.S.-China trade negotiations, we don't need to be too pessimistic. Japanese stocks are heading for a rebound" after last month's drop.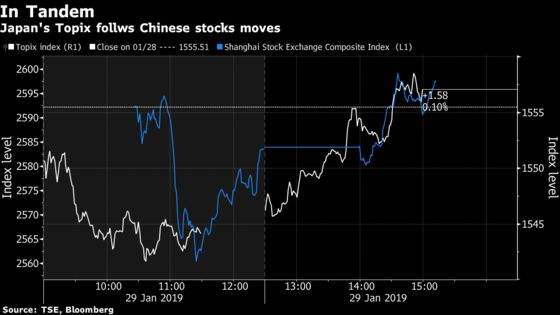 Machinery makers such as Komatsu Ltd. and Hitachi Construction Machinery Co. dropped after Caterpillar Inc. reported earnings that missed estimates on lower demand in China. Chip-related stocks including Screen Holdings Co. and Advantest Corp. fell after Nvidia Corp. cut its fourth-quarter revenue outlook.
"Given the sluggish earnings results from Caterpillar and Nvidia, there's growing concerns over Japanese corporate earnings," said Yoshihiko Tabei, a senior analyst at Naito Securities Co. in Tokyo.
Topix +0.1% to close at 1,557.09 in Tokyo after falling as much as 0.9%
Nikkei 225 +0.1% to close at 20,664.64 after dropping as much as 1.2%
Yen little changed at 109.34 per dollar
Telecommunications: SoftBank Group +1.5%, NTT +1.5%
Railways group: Central Japan Railway +1.4%, East Japan Railway +1.4%
Machinery makers: Komatsu -4.6%, Hitachi Construction -4.4%
Chip-related group: Screen Holdings -6%, Advantest -4.6%
Trend Micro -9%, after missing analyst expectations, its own profit forecast