Japan Stocks Erase This Year's Loss on Seven-Day Winning Streak
(Bloomberg) -- Japan's Topix index has finally done it.
After almost eight months in the red, a seven-day rally has powered the benchmark index to erase its year-to-date loss. The gauge rose 1 percent on Tuesday to 1,822.44, about 5 points higher than where it ended last year.
Stocks have benefited from a weaker yen as it depreciated to 112.89 per dollar, the lowest since January on a closing basis. Continued corporate earnings growth and lingering hopes that the Trump administration won't levy tariffs on Japanese automakers have also contributed to recent positive sentiment, according to Nicholas Smith, an equity strategist at CLSA Ltd.
"The goalkeeper dived the wrong way -- share prices went down but consensus earnings continued on up," Smith said. If Japan "evades tariffs on autos altogether then buckle up tight and low because we're going a whole lot higher," he said.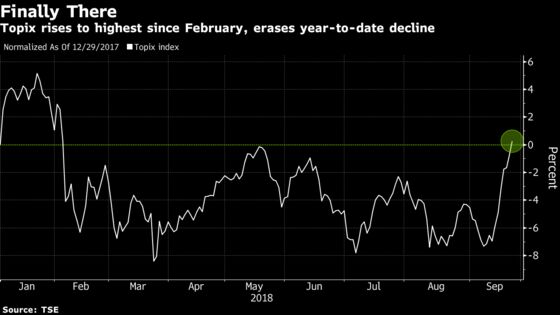 The Topix has been the best-performing developed market in the past seven days, as it recorded its longest winning streak since October last year. The gauge posted its best week in two years last week, which propelled it from one of the worst performing markets in Asia to one of the best. Foreign investors have sold almost $55 billion worth of Japanese stocks this year.
"The very depressed expectations will be changing towards the end of the year," said Ryoji Musha, president of Musha Research Co. in Tokyo, adding that there is a "low chance" Japan shares will head back into a downward direction.
Still, Amir Anvarzadeh, a senior strategist with Asymmetric Advisors in Singapore cautions against chasing the rally before the end of the month, which will mark the end of the first half of the Japanese fiscal calendar.
"We have to wait for the interim period to come to an end. There's going to be a lot of window dressing ahead of that," he said. There has been an "outflow of money by Japanese into U.S. Treasuries that has picked up strongly over the past few weeks" and that has affected the yen, he said.