Japan Stocks May Suffer Dividend Hit After BOJ ETF Buy Binge
(Bloomberg) -- The Bank of Japan's massive purchases of exchange-traded funds may have an unintended negative impact on stocks this week.
The nation's ETF market has swollen almost 13 times to 33 trillion yen ($297 billion) since the BOJ began buying the instruments in 2010, according to data from the Investment Trusts Association of Japan. BOJ Governor Haruhiko Kuroda accelerated ETF purchases to about 6 trillion yen annually in 2016 in his effort to promote inflation.
Amid this influx of cash, the number of listed ETFs has more than doubled to 180 in the past eight years. With a number of the biggest funds set to make annual dividend payments soon, their managers may be poised to unwind related futures positions and could also sell off some holdings in order to help raise cash.
"The market is staying alert to a possible sell-off related to ETF dividend payout," said Makoto Sengoku, a market analyst at Tokai Tokyo Research Institute Co. "It's a trade-off for the Japanese stock market as the BOJ keeps on buying ETFs."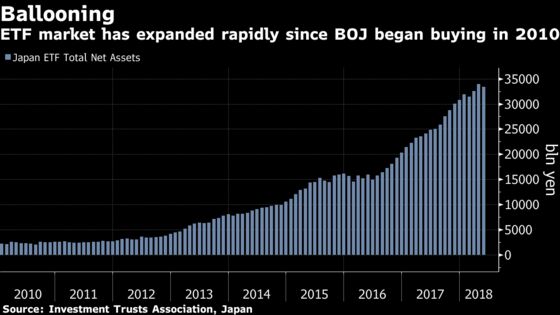 Tokai Tokyo Research estimates the three biggest domestic managers, Nomura Asset Management Co., Daiwa Asset Management Co. and Nikko Asset Management Co., will pay about 400 billion yen in dividends on ETFs linked to the Topix index or the Nikkei 225 Stock Average this year, up from about 280 billion yen in 2017.
The dividend payment dates are listed as either July 8 or 10 for each of the six largest Japanese ETFs, which together account for nearly 80 percent of the total market, according to Bloomberg data. The Topix index fell 0.3 percent in the week ended July 7 last year and dropped 3.6 percent in the week ended July 8, 2016. The benchmark gauge has started this week with a 2.2 percent, two-day decline.