Yen-Proof ETF Lures U.S. Buyers as Japan Stocks Hit 27-Year High
(Bloomberg) -- Surging Japanese stocks and a tumbling yen are luring U.S. investors back to a once hugely popular exchange-traded fund after almost a year of uninterrupted retreat.
Investors plowed $158 million into the WisdomTree Japan Hedged Equity ETF Tuesday, the most in more than two years. It comes on the heels of $179 million of fresh cash in September, breaking nine straight months of outflows that saw $3.6 billion pulled from the fund.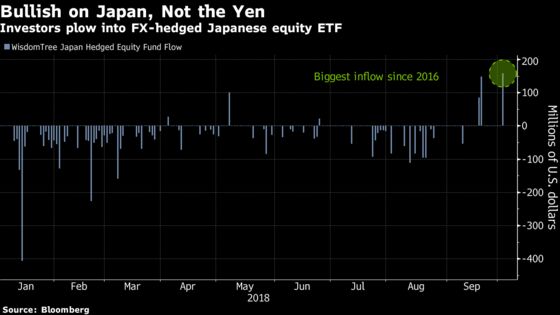 The renewed interest comes as the Nikkei 225 Stock Average surged to a 27-year high this week, while the yen touched its weakest level against the dollar since November, falling below 114.50 to the greenback. Given that a strengthening dollar erodes the returns of rallying Japanese stocks for U.S. investors, it's little surprise to see money returning to foreign-exchange hedged ETFs, according to Bloomberg Intelligence analyst Athanasios Psarofagis.
"The coupling of the yen breaking down and Japan breaking out, that's two tailwinds for DXJ," Psarofagis said, referring to the fund by its ticker. By buying the ETF, "you're explicitly saying, I want exposure to Japan but I'm afraid of a weakening yen or a strengthening dollar."
For Japanese investors, the Nikkei has gained more than 7 percent since bottoming Sept. 7. Meanwhile, greenback-based returns are comparatively paltry 4.7 percent.
Tuesday's inflow is a much-needed shot in the arm for an ETF that's seen assets plunge from more than $18 billion in 2015 to less than $6 billion now. Should the dollar's more than 6 percent rally since mid-April gain further steam, that could bode well for the fund, and currency-hedged ETFs broadly.
"On the margin, this is what a currency-hedged ETF needs," Psarofagis said. "You need to be bullish on the exposure you want and bearish on the currency, so when you have those two line up, that's good for currency-hedged products."