Japan's Retail Army Is Piling Into Rand While Shunning Lira
(Bloomberg) -- The lira's loss is the rand's gain. Japan's retail investors are boosting holdings of South Africa's currency at the fastest pace since 2009, while cutting foreign-exchange exposure in Turkey.
Individual investors from the Asian nation have raised their net rand long position against the yen for five straight months through June, according to data from Tokyo Financial Exchange Inc. They have been reducing their net lira positioning for four months.
"Japanese investors who cut losses in the lira could have shifted to the rand, given the better political situation" in South Africa, said Koji Fukaya, chief executive officer at FPG Securities Co. in Tokyo. "Emerging-market currencies haven't been performing well, but Japanese investors have been seeking opportunities to take exposures in high yielders and hold them."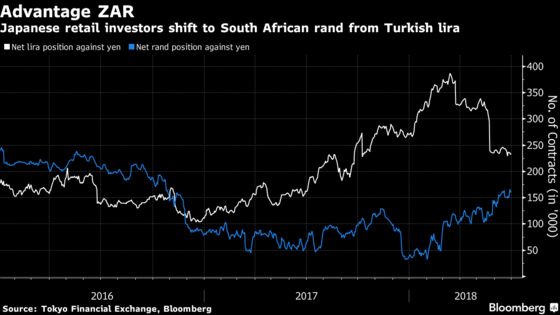 The U.S. dollar's surge and global trade tensions have saddled emerging-market investors with losses this year. A Bloomberg currency index measuring carry-trade returns from eight developing markets, funded by short positions in the greenback, slumped 8.8 percent in the April-June quarter, the most since 2011, after rallying for five quarters through March. It has extended losses in July.
Japanese retail investors boosted their net position on the rand by 11 percent in June to 159,631 contracts, which is the equivalent of about 16 billion rand ($1.2 billion). They pared their lira exposure by 2.3 percent to 233,795 contracts, worth 2.3 billion liras ($492 million).
Despite the EM selloff, investors' combined net position in the rand, lira, Mexican peso and Polish zloty is still up almost 27 percent in 2018, according to Tokyo Financial Exchange data.
"Japanese retail investors tend to be contrarians, typically entering to buy on dips," said Fukaya of FPG Securities, adding that investors probably bought the rand against the yen as the pair approached the 8.00 level.
The preference for the South African currency seems to be stemming from optimism that new President Cyril Ramaphosa will be able to turn things around for Africa's most-industrialized economy. The rand slumped 11 percent against the yen in the first half.
That's much lower than the lira's 19 percent plunge. Investors still uncertain about how President Recep Tayyip Erdogan will deal with Turkey's economic problems and what kind of control he'll wield over monetary policy. At the same time, its relations with the U.S. remain fraught, with American officials warning that they will impose sanctions on the NATO ally when it receives a Russian missile defense system.
"Japanese investors may be reducing their lira positions on speculation President Erdogan will put pressure on the central bank to lower interest rates," said Takuya Kanda, general manager at Gaitame.Com Research Institute Ltd. in Tokyo. "Investors may be turning to South Africa due to a lack of apparent negative factors."