Japan's Retail Army Cuts Lira Positions by Record Amid Collapse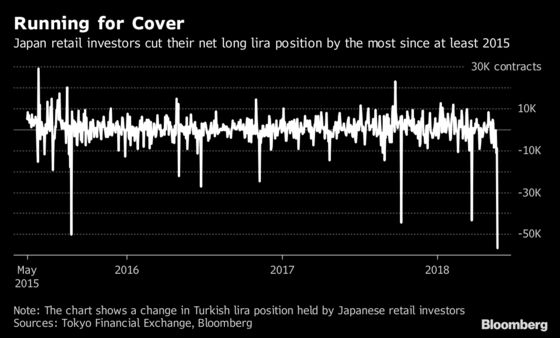 (Bloomberg) -- Japanese retail investors dumped the lira by the most in at least three years, triggering the currency's plunge to a record and prompting Turkey's central bank to raise interest rates.
Net long lira positions against the yen fell by 56,754 contracts to 239,606, the biggest single-day drop since May 2015, according to the Tokyo Financial Exchange Inc., which began listing the Turkish currency for trading three years ago. With one contract equaling 10,000 units of a foreign currency, Wednesday's net sale was worth about 14 billion yen ($128 million), based on the lira-yen's closing rate on the day.
Here's what Turkey's central bank did after the lira's collapse
The lira plunged more than 6 percent against the yen to a record low on Wednesday, as the recent slump prompted individual investors in Japan to cut losses. The Turkish currency later rebounded as the central bank raised its late liquidity window rate by 300 basis points to 16.5 percent after an extraordinary meeting of its monetary policy committee.
Japanese retail investors are known for their contrarian stance amid near-zero rates at home. Holding the lira for a month offers a yield of 14 percent based on forward exchange-rate prices. But even that may not be enough for yield-starved investors in the Asian nation to come back, given the lira's recent roller-coaster ride, according to Kengo Suzuki, chief foreign-exchange strategist at Mizuho Securities Co. in Tokyo.
The lira-yen exchange rate's implied volatility stands at about 32 percent, compared with 12 at the start of the year.
"After getting burned badly, Japanese investors will probably avoid touching the lira for now,'' Suzuki said. "The lira's carry isn't enough to compensate for the rise in volatility.''