Japan's Margin Traders: Why They Matter for Currency Markets
(Bloomberg) -- The yen's surge versus all its 146 peers in early January put the spotlight on Japan's margin traders, who have been growing in influence as the nation's ultra-low bond yields spur them to bet on overseas currencies.
Foreign-exchange margin trading gained popularity in Japan after a revision to financial legislation in 2005, and surged to account for 68 percent of total spot transactions in 2013 when the central bank expanded quantitative easing.
With their market share never falling below 43 percent since then, the influence of the so-called Mrs. Watanabes has become known across the world.
In recent years, speculators have occasionally sought to trigger off a chain reaction by buying yen in times of low market liquidity in the hope of setting off stop-loss orders from margin traders who are betting on higher-yielding currencies. One of the favorite times to do this is early morning on Japanese holidays when the main source of liquidity is Australia, which has average daily turnover of just $39 billion, versus $134 billion in Japan.
The thin liquidity can contribute to wild gyrations, especially in emerging-market currencies such as the South African rand or Turkish lira which are thinly traded in Asia.
Here are some answers to widely-asked questions about Japan's FX margin traders:
How big is their presence?

Japanese margin-trading companies typically match buy and sell orders from clients on their own platforms, and only the excess reaches the market and impacts exchange rates. This excess amounted to 129.5 trillion yen ($1.2 trillion) in April last year, or 46 percent of total spot transactions in Tokyo, according to data from the Financial Futures Association of Japan. That volume was 20 percent higher than deals done for corporate clients.
What are their defining characteristics?
A preference for higher-yielding currencies and buying on dips.
FX trading has expanded in Japan as an alternative to foreign-currency deposits and investment funds, according to a research paper published by the central bank in June 2016. Individuals tend to focus on swap points, also known as carry, instead of betting on the direction of a currency. This daily carry profit appeals to individual investors, who have been deprived of interest income as the Bank of Japan holds policy rates below zero, while suppressing bond yields at around that level.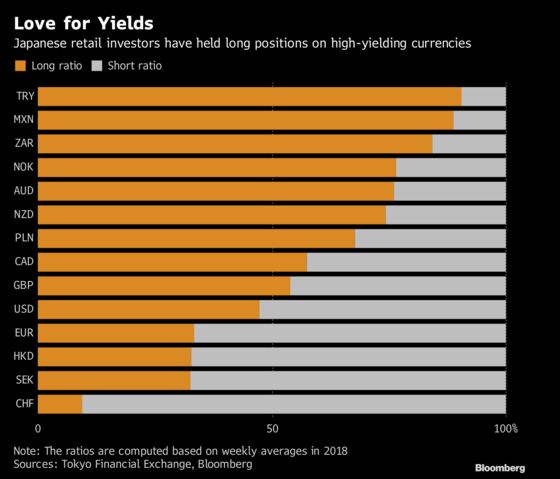 Japanese retail investors mostly buy on dips in the hope of maximizing carry returns, unlike fund managers who tend to seek capital gains through momentum trading or strategies based on macro-economic trends. This dip buying can be seen in trades involving high-yielding EM currencies such as the rand.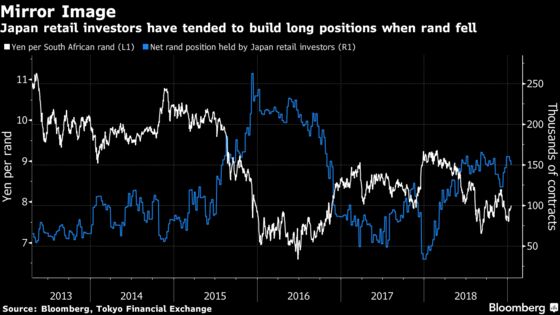 What's the consequence of focusing on carry returns?
The strategy leads to chronic long positions on high-yielding assets and shorting the yen, which tends to curb the strength of Japan's currency in times of risk aversion. It can also set off violent unwinding of positions when losses mount, triggering outsized moves that reverberate across global financial markets.
Margin-trading firms tend to evaluate their client positions every day, typically around 7 a.m. in Tokyo and liquidate them if losses reach certain levels. These forced sales usually take place early in the day, and occur even on Japanese holidays, which can mean market makers struggle to match demand, leading to widening spreads. That can trigger off preset algorithmic trading programs, leading to a market sell-off.
A combination of these reasons may have led to the flash crash on Jan. 3, when the Australian dollar and the Turkish lira plunged versus the yen.
"The tendency of retail investors' one-way bets makes it easier for speculators to target their stop-losses," said Toshiya Yamauchi, chief manager for foreign-exchange margin trading at Ueda Harlow Ltd. in Tokyo. "We may see another flash crash again."
How do you track the retail footprint?
The Financial Futures Association releases monthly figures based on reports from more than 50 margin-trading companies. Weekly numbers are also available from Tokyo Financial Exchange Inc., although its sample base is smaller than the association's. Margin-trading companies also provide proprietary positioning data to their clients, with some making snapshots available publicly, including Gaitame.com Co.