Japan's Financial Markets Gird for Tokyo Emergency Measures
As the world's most populous city prepares to adopt emergency measures to contain the deadly coronavirus, Tokyo's financial markets are about to find out how resilient they are to social distancing.
With a near ubiquitous broadband network, and weeks of time to learn from counterparts from Hong Kong to New York, Tokyo is expected to keep on working through the month-long emergency period announced by Prime Minister Shinzo Abe on Tuesday. Japan's capital has operated through tough times before, including the post-March 11, 2011, earthquake and tsunami catastrophe that saw significant electricity shortages when nuclear reactors were shut down.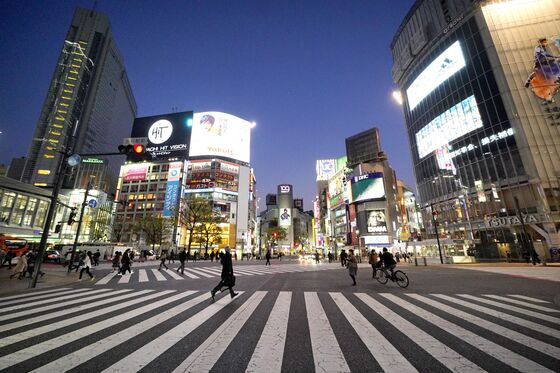 While the Tokyo Stock Exchange said it would run normally under the emergency declaration, not all markets are expected to be unscathed. Some big institutional investors say their work-from-home capacity faces limits, and fixed-income market participants are warning of reduced deal volume and a potential drop-off in Japanese government bond (JGB) trading.
"With fewer people coming to offices and those at work being limited, trading activity becomes thin, low liquidity in the JGB market continues, and volatility is bound to rise," said Takenobu Nakashima, senior rates strategist at Nomura Securities.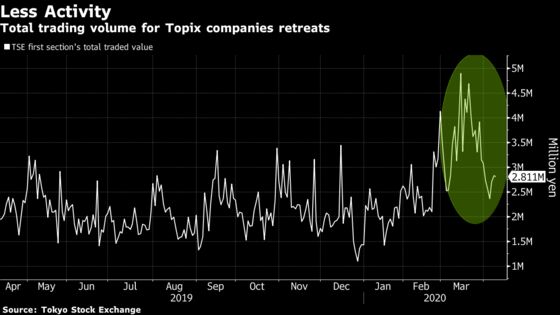 Under the state of emergency for Tokyo and its surrounding regions, only essential services will operate as normal and office workers have been told to work from home. The measures stop short of the strict lockdowns elsewhere around the world, even as Abe warned that cases in the nation could soar to as many as 80,000. That's because there's no legal power to enforce limits on people's movements in Japan.
So some firms may decide to proceed with few changes. Tokyo Governor Yuriko Koike plans to announce Friday which businesses will be asked to close, taking effect Saturday.
"Compared to the conditions people are taking in London and in New York, we have the freedom to come into work or not come into work," said Nicholas Smith, a strategist at CLSA Ltd. in Tokyo, who has been coming into the office and who pointed out that Japan lacked the legal capacity to order people to stay home. "There are relatively few changes that come in with the state of emergency."
Different firms have taken differing approaches. Here's a selection:
At Nippon Life Insurance Co., a major institutional invstor, at least half of the staff who are employed in corporate-bond investing will continue to come to the office, to make sure that there is no impact on operations, according to a spokesperson for the company.
Employees at Dai-Ichi Life Insurance Co. -- including those who manage corporate bonds -- will work in principle at home after the declaration, an official at the company said.
SMBC Nikko Securities Inc. will keep enough staff in the office to execute trading orders, while allowing some, such as back-office employees, to work from home, spokeswoman Takae Masaki said.
The Tokyo Stock Exchange will be run normally even under the emergency declaration, a spokeswoman for Japan Exchange Group said, noting the group's previous guidance.
Trading in money markets and Japanese government bonds won't come to a standstill as long as banks and brokerages are connected to the Bank of Japan's computer system, according to market participants. But with at least some reduction in the number of traders, that may exacerbate already-low market liquidity -- leading to wider price swings, said Mari Iwashita, chief market economist at Daiwa Securities Co.
Financial institutions are expected to keep minimum staff to deal with key business aspects such as monitoring the BOJ-Net. That's the computer network for online funds transfers and Japanese government bond settlements between the central bank and financial institutions.
The BOJ's market operations are expected to run normally as the central bank can extend several measures it took last month to soothe market jitters. The BOJ increased the number of regular bond purchases for April and also eased some requirements to lend debt securities through April.
Still, there are concerns that fewer bids will be placed at JGB auctions, because dealers would be wary of building up inventories for fear of not being able to sell as investors take less risk, said Shuichi Ohsaki, chief rates strategist at Bank of America Merrill Lynch.
Disruptions to the foreign-exchange market are expected to be limited. Banks may increase the number of staff members already working from home, but transactions with customers will be maintained as usual, said Michiyoshi Kato, senior vice president of FX sales at Mizuho Bank Ltd. in Tokyo.
In the corporate-debt market, there are some concerns the state of emergency will exacerbate already increasing issuance costs."Issuance costs will likely rise further if stock prices fall and credit risks rise, reacting to Abe's state of emergency declaration," said Katsuyuki Tokushima, head of pension research in NLI Research Institute's financial research department.