Abe, Japan's Longest-Serving Premier, Resigns Due to Health
(Bloomberg) -- Japanese Prime Minister Shinzo Abe said he would resign to undergo treatment for a chronic illness, ending his run as the country's longest serving premier in an announcement that surprised some members of his party.
Abe confirmed reports that he was dealing with ulcerative colitis, a chronic digestive condition that also forced him to step down as premier in 2007. He said he would stay on until leaders of his Liberal Democratic Party hold an internal vote to pick a successor, and then he would like to remain a lawmaker after handing over power. The vote may be held Sept. 15, Kyodo news agency reported. A general election isn't due until October 2021.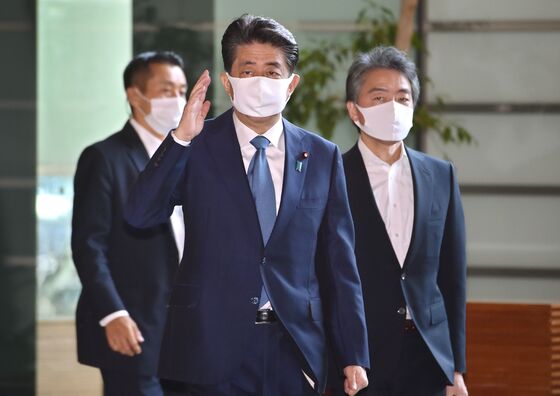 "I am not confident of responding to the trust of the people while I am dealing with my illness and treatment and my health is not good," Abe said. "There may have been things about the way I've explained myself that I should reflect on, and if I've been misunderstood then I need to reflect on that too, but I want to say that I never exploited my position for my own gain."
The Topix index closed 0.7% lower after falling as much as 1.6%, while the yen strengthened 0.5% to 106.03 per dollar as of 5:26pm Friday in Tokyo. Abe spoke for a few minutes Friday ahead of the reports, where he told a meeting of the government's virus task force his administration has put together a new plan to combat Covid-19 ahead of the winter flu season.
The decision appeared to catch key members of Abe's ruling party off guard. On Thursday, Chief Cabinet Secretary Yoshihide Suga said in an interview that Abe should be able to serve out the rest of his term as party leader.
"It was an absolute surprise since it was so sudden," Tomomi Inada, the LDP's deputy secretary general, told reporters. "I hadn't expected it."
Abe's record-setting run brought stability to Japan after a revolving door of six administrations, including a previous stint by the 65-year-old leader. He helped Japan escape from a cycle of deflation, endured a Trump administration that questioned the nation's only military alliance, and worked to improve ties with its biggest trading partner China, which were at their most hostile in decades when he took office.
Read more on Abe's resignation:
Japan Stocks Tumble After Reports Say Abe to Resign Over Health
JAPAN REACT: Abe Departure Risk Thrusts Policy Into Uncertainty
Abe is perhaps best known for his plans to revive the flagging economy through unprecedented monetary easing and regulatory reform that was eventually labeled "Abenomics." He has been seen as a steady hand who has consolidated power during his record run and been able to overcome scandals, including one that came to light in 2017 over questionable government land allocations for schools provided to associates of Abe and his wife Akie.
"It's highly unlikely in our view that any successor will pursue policies that are going to be vastly different from the current direction," Kathy Matsui, vice chair of Goldman Sachs Japan and coiner of the term Womenomics, said on Bloomberg Television. "We continue to expect any successors continue with aggressive fiscal and monetary easing."
Top contenders include Suga and Shigeru Ishiba, a former defense minister, who is currently the voters' top choice to take over. He has backed economic policies seen as more populist than Abe's, and said in an interview in April that too much wealth was accumulating in the hands of stockholders and company owners.
While Finance Minister Taro Aso has also been considered a potential successor, Kyodo reported that he doesn't intend to run for the party leadership in the vote being considered for mid-September. It didn't say where it got the information.
Toshihiro Nikai, the secretary general of the LDP, told reporters after Abe spoke that leaders will listen to opinions before deciding on an election method.
"The tug of war will start now," said Tomoaki Iwai, a professor of political science at Nihon University. "Suga's name will come up. But if they hold a party leadership election, they need to think about the general election and people like Ishiba will have an advantage."
Abe has had little time away from work as the coronavirus continues to spread throughout Japan, triggering the worst economic contraction on record in the April-June quarter. As virus numbers have increased in recent weeks, Abe's approval slid to a record low of 35.4% in a poll published by JNN in early August, with critics saying his policies have come too late and fallen short of needs.
This month, Japan's two largest opposition parties said they would merge, as they looked to mount a challenge to the LDP next year. The deal could bring together about 150 lawmakers across both houses of parliament, compared with the LDP's almost 400.
The main opposition parties have so far failed to capitalize on Abe's decline in the polls. Voters have long indicated that they don't see the groups as a better alternative to the LDP, which has ruled Japan for 60 of the last 65 years.
"Abe having the full support of his team in every policy pursuit, and their encouragement through every scandal, became the norm, so much so that we've all stopped talking about it," said Amy Catalinac, assistant professor in the department of politics at New York University. "This, for me, is the defining feature of Abe's long tenure as LDP president and prime minister."
The grandson of former premier Nobusuke Kishi and son of a foreign minister, Abe sought to bolster Japan's presence on the world stage. He loosened restrictions on the military and increased the country's defense budget. He has long pressed a revision of Japan's pacifist constitution and has been accused by critics of trying to whitewash the country's militarist past.
In 2016, Abe became the first leader of a major nation to court Donald Trump following his election as U.S. president -- working to maintain personal ties through golf games and hamburger lunches, despite differences of opinion on subjects ranging from trade to climate change.
Those efforts were called into question when Japan came under the threat of punitive U.S. auto tariffs, forcing him to agree to a bilateral trade deal that opponents criticized as giving away too much. Trump later called on Japan to quadruple what it pays to support U.S. troops in Japan.
While Abe's government has been cautious in voicing criticism of China, his ruling party has signaled a tougher line in recent months. Some LDP members have sought to block a state visit to Tokyo by President Xi Jinping, saying it wouldn't be appropriate in light of moves such as Beijing's new security law seen as undermining Hong Kong's autonomy. And Japan has subsidized some companies to shift operations away from China.
Abe also devoted energy to trying to resolve a World War II territorial dispute with Russia, which has simmered for seven decades.
On Friday, Abe expressed regret for the things he didn't accomplish: bringing back abductees from North Korea, achieving a peace treaty with Russia and revising Japan's pacifist constitution.
"If you're asking what my legacy will be, I think it'll be decided by the people and by history," Abe said.