Japan Premier Says Country to Release Oil From Reserves
(Bloomberg) -- Japan said it will release hundreds of thousands of kiloliters of oil from its national reserves, as part of a joint effort with the U.S. and other nations to rein in soaring prices. 
While officials didn't give a more specific amount, Nikkei reported earlier the country will release about 4.2 million barrels. Japan, one of the top oil consumers, uses about 3.3 million barrels of oil a day. 
Prime Minister Fumio Kishida said early Wednesday the release will take place in a way that won't conflict with Japan's oil stockpiling law, which dictates when it can take such measures. Elaborating later, Trade Minister Koichi Hagiuda said Japan will conduct the release as it replaces oil in its current stockpile. While Japan does that regularly, it has moved up the schedule to support the similar actions from other countries, he said.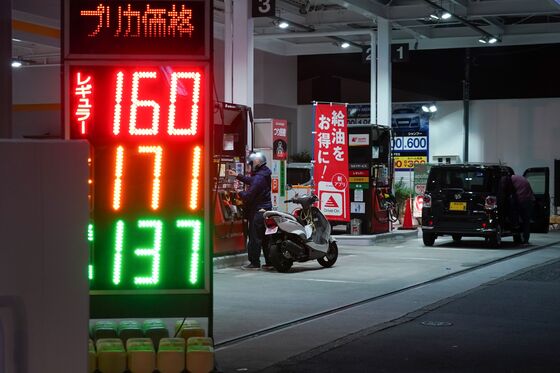 The move comes as the U.S. and other major crude consumers grapple with a surge in oil prices after the Organization of Petroleum Exporting Countries and its allies resisted calls to add more supply to the market. China, South Korea, India and the U.K. will join in the coordinated release. The U.S., India and Japan have been publicly urging OPEC+ to increase daily output by more than its current plan of 400,000 barrels each month. 
"Stable oil prices are necessary for the economy to recover from the pandemic," Kishida said. "The government will work to advocate to oil-producing countries, and will consider industry-specific measures." 
Under guidelines from the International Energy Agency, an industry group that Japan is a part of, each of the 30 member countries is obligated to hold emergency stockpiles equivalent to at least 90 days of net imports. Japan held over 220 days as of end-September, based on IEA's method of estimation, including barrels held by private companies.
There were 45.45 million kiloliters, or 290 million barrels, of crude, and 1.43 million kiloliters of oil products in Japan's strategic reserves at the end of September, according to official data. The government also provides storage facilities for private companies and leases capacity to Saudi Arabia, the United Arab Emirates and Kuwait, which can be used in the event of an emergency.