Japan Insurance Giant Targets Overseas Credit in 'Severe' Market
(Bloomberg) -- Japan's biggest private life insurer plans to boost its positions in credit -- and overseas securities in particular -- this year as it copes with depressed Japanese government bond yields and paper losses on equity holdings.
Nippon Life Insurance Co. plans to raise its holdings of yen bonds by about 1 trillion yen ($9.3 billion) in the fiscal year that began this month. Part of that will actually be composed of foreign assets -- as with some other Japanese institutional investors, the insurer classifies overseas bonds whose proceeds are swapped into yen as, effectively, yen securities.
On top of that, the firm plans to raise holdings of overseas debt by a net 500 billion yen in the current fiscal year, according to the allocation plan released on Thursday. The intentions underscore the sustained, massive demand in Japan for dollar investments that's been one factor in restraining yen strength.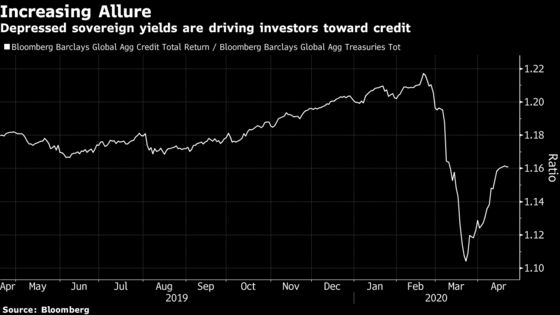 "We will continue to expand investment in relatively higher-yielding overseas credit," said Shinichi Okamoto, senior general manager at the finance & investment planning department of Nippon, which had total assets of about 82 trillion yen at the end of 2019. "Low rates and heightening market uncertainties are keeping the investment environment severe."
The attractiveness of corporate bonds over their government equivalents is rising as continued monetary easing by global central banks in the wake of the coronavirus pandemic keeps sovereign yields depressed. Credit markets have rallied this month after the Federal Reserve said it would include some types of high-yield bonds in its debt-buying program.
That should have benefited Nippon. Okamoto said in the insurer's statement that Nippon sold Treasuries and shifted to U.S. corporate bonds toward the end of the fiscal year that ended in March -- when Treasury yields fell and credit spreads widened.
Nippon and its peers continue to pivot to unhedged overseas debt amid falling U.S. Treasury yields and a pick up in hedging costs for European bonds.
As for equities, Nippon will keep its domestic and overseas holdings steady this year -- a shift from an October strategy to target more stock investments.
Smaller rival Dai-ichi Life Insurance Co. said this week it plans to pare its positions in local stocks, seeking to reduce risk in its portfolio amid market turmoil spurred by the coronavirus pandemic.
Nippon estimates unrealized profits on its overall securities holdings to have shrunk from a year earlier by 1.33 trillion yen in the fiscal year that ended in March, owing largely to estimated unrealized losses of about 1.46 trillion yen on local and foreign stock holdings. Unrealized profits on foreign bond holdings are estimated at 560 billion yen.
Here are some of its other plans and forecasts:
Will continue to diversify into alternative assets such as overseas real estate and infrastructure
The focus within unhedged overseas-debt investments remains on U.S. dollars, but it will consider currency diversification
Nippon to pare exposure to hedged foreign bonds by selling part of U.S. and European sovereign holdings to switch into U.S. and European corporate bonds or project financing

It shed an estimated 1.38 trillion yen worth of hedged foreign bond holdings last FY and raised 500 billion yen in unhedged foreign debt, by book value

Last fiscal year saw an estimated 2.15 trillion yen increase in yen bond holdings, by book value
Nippon expects 10-year Japanese government bond yields to move between minus 0.3% and plus 0.1% this fiscal year
It sees 10-year Treasury yields between 0.3% and 1.7%
Dollar-yen is forecast at a 100 to 120 range