Jamaica's World-Beating 233% Stock Rally Continues Full Steam
(Bloomberg) -- Jamaica's spectacular stock market rally, the world's biggest over the last five years, shows no sign of losing steam.
The Caribbean island's benchmark index has gained 19 percent in dollar terms this year, the most among more than 90 primary equity gauges tracked by Bloomberg. Over the last five years, its 233 percent rally dwarfs the 86 percent rally in the second-top performer, Vietnam's Ho Chi Minh Stock Index, and the 73 percent rally in the S&P 500 index.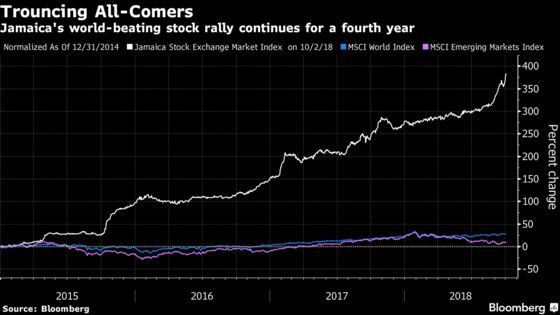 Jamaica's government is targeting annual economic growth of 5 percent by 2020, as billions of dollars of Chinese investment helps it upgrade ports and highways. The Caribbean island nation has slashed borrowing under an International Monetary Fund plan as it gets one of the world's highest debt burdens under control.
"For the first time in a few decades the government has not been borrowing excessively from the local market and the Central Bank has actually been issuing instruments at historically low yields," said Marian Ross of Sterling Asset Management in Kingston. "The stock market is the only repository for the liquidity."
If regulations on pension funds are relaxed, even more funds could flow into local equities, Ross said. The index's $8 billion market capitalization is equivalent to about 0.03 percent of the value of the S&P 500, and is dominated by financial services companies. The top performer is Barita Investments Ltd, a stock brokerage company, whose shares have rallied 129 percent in dollar terms this year.
The economy will grow 2 percent this year, according to analysts surveyed by Bloomberg, the fastest pace in more than a decade. Jamaica had suffered from years of sluggish growth, weighed down by government debt of more than 100 percent of gross domestic product.