Italy Woes Rattle Markets, Revive EU Viability Angst: Roundup
(Bloomberg) -- Italy's escalating political crisis rattled global markets amid concern that the European Union's cohesiveness will be tested anew. U.S. assets looked like they might hold up, but equity selling and a Treasury rally picked up steam after the close overseas.
Here's the roundup of coverage from Bloomberg News:
Italian Bonds Caught in Meltdown Send Global Markets Into Panic
Treasuries Ease From Highs After Catching Italy Panic Haven Bid
Italian Bonds in Tailspin Draw Comparisons With Days of Crisis
Two-year bond yields in Italy surged the most since the euro came into existence as the nation's populist leaders began mobilizing for an early election. That sent shock waves across Europe's bond-trading floors, putting all eyes on upcoming auctions in Italy.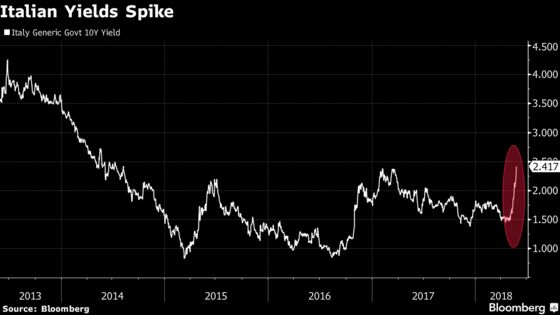 Stock Decline Deepens as Italian Woes Jolt Assets: Markets Wrap
Euro Slides to 10-Month Low as Italian Bonds Tumble: Inside G-10
Italian Implosion Brings Bank Stocks Back on Radar: Intelligence
Global markets went into panic mode, with investors shunning securities of euro-area peripheral economies and fleeing to the safety of U.S. Treasuries and U.K. gilts. Volatility spiked as investors paid up to hedge. Beat-down Italian banks might be worth a flyer, though.