Italy, Spain Pass the Budget on the Left-Hand Side: Taking Stock
(Bloomberg) -- (Bloomberg News has renamed the European Equity Pre-Market column Taking Stock. It will appear every trading day at the same time as the previous column.)
Euro Stoxx 50 futures are little changed while Asian stocks traded mixed, as the dollar inched higher alongside Treasury yields. U.S. equity index futures advanced after a negative session yesterday.
The rather timid bounce we experienced yesterday was again not yet convincing. Volumes were low and the market needs more traction to take out important resistance levels. Additionally, credit markets have shown no sign of reassurance so far, with the Itraxx Europe still trading near the highs of the past three days. Another thing that caught our eye is the market breadth: 42% of the Stoxx Europe 600 members are in oversold territory, while more than a third have been oversold for three days, a situation that should have triggered a stronger bounce. Nevertheless, when the VIX spikes like it did last week, equities tend to be higher more than 90% of the time over the next 6 to 12 months -- barring recessions -- according to equity strategist Mislav Matejka.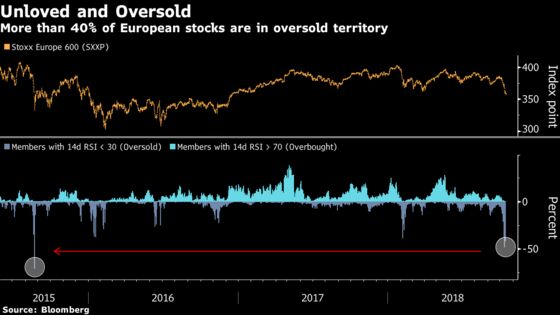 The recent sell-off in the stock market is signaling it's time to buy bonds, according to Citigroup. Cyclical stocks have done less well than defensive shares -- which are seen holding up better during economic slowdowns -- since the summer. Over the same period, robust U.S. data contributed to a slide in Treasuries. That divergence is unlikely to last, in the Citigroup team's view.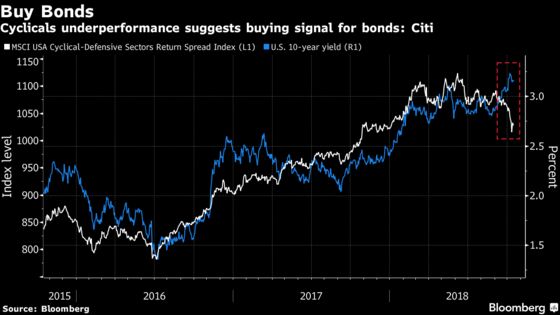 The situation between the U.S. and the Kingdom of Saudi Arabia about the disappearance of journalist Jamal Khashoggi seems to have eased a bit with the kingdom cooperating with the Turkish authorities. Some press reports suggested Saudi Arabia may admit the journalist died during a botched investigation at its embassy in Istanbul and blame rogue operatives. Nevertheless, U.S. President Donald Trump said he is uncertain if his administration will participate in a Saudi investment conference. Watch oil companies as oil prices are still on the rise, with the Brent back above $81. Investors in aircraft manufacturers and defense contractors such as Airbus and BAE will keep an eye on the situation as it already had an impact.
In Germany, investor optimism probably slid back in October after a two-month uptick. Italy managed to agree on a budget at the last minute and submitted it to the EU for review. Finance Minister Giovanni Tria denied any talk of stepping down. The budget is set to see a deficit of 2.4%. Italian stocks will react to comments, especially banks, utilities and insurers. Stocks most sensitive to yields are UniCredit, Intesa Sanpaolo and Banco BPM, and insurers like Generali and Poste Italiane. Also note that Spain's Socialist government is sticking to its pledge to widen its deficit targets in 2019. Speaking about financials, Goldman Sachs and Morgan Stanley will report earnings, providing a benchmark for their European counterparts on how trading revenue fared in the third quarter after a mixed set of updates so far.
Brexit won't leave the headlines, with European Council President Donald Tusk saying a no-deal Brexit is more likely than ever before to EU leaders ahead of their summit Wednesday. In contrast, Theresa May and Emmanuel Macron struck a positive tone. The pound is steady at $1.315.
Elsewhere, gold is little changed while base metals are weaker, lead by copper down 1.4%. This may have an impact on miners which showed resilience in October. Watch copper players Antofagasta, KAZ, and diversified miners Glencore, Rio and BHP. So far, large miners have been supported by China's relentless demand for iron ore.
"A key concern has been the combined sell-off in equities and bonds, which has weighed on multi-asset portfolios, similar to February," Goldman Sachs strategists write in a note. "At one point the initial sell-off in equities and bonds led to one of the worst periods for simple risk parity strategies since the GFC (Great Financial Crisis). Also the shift in momentum that occurred on Wednesday last week was the largest daily shift in U.S. equity momentum since 2011 by some measures."
NOTES FROM THE SELL SIDE:
Homeserve shares have been on a strong run, and growth should continue in coming years from outperformance in the U.S. business, Berenberg says in an initiation note setting stock at buy with Street-high PT of 1,150p.
Intu remains firmly in the crosshairs of a potential takeover offer but being constantly in this position is a distraction for the company and any potential new CEO, Citi says in a note cutting co. to neutral.
It's increasingly looking like Kingfisher's transformation plan won't yield the margin benefits it was supposed to, which could lead to more calls for a break-up, RBC says, detailing reasons for its PT cut on the stock to GBp260 to GBp275.
Swisscom is considering options for its Fastweb unit, including a sale or partnership, that would increase the Italian business's market share in mobile services, people familiar with the matter said.
Singapore's state investment firm, Temasek Holdings, has held talks with Chinese authorities about acquiring a stake in Anbang Insurance Group as well as some of its assets, according to people with knowledge of the matter.
Rio Tinto, the world's No. 2 iron ore exporter, followed industry leader Vale in confirming it's on track for record annual shipments amid differing projections over the strength of demand in China.
Merlin Entertainment Sees FY Results in Line With Estimates
Meggitt Raises FY Org. Revenue Growth View to 7%-8% From 4%-6%
Volvo Detects Component Issue, Says Cost 'Could Be Material'
De Beers Rough Diamond Sales Fall to $475m in Eighth Cycle
BAT Expects Next-Generation Rev. to Fall Short of Target
Drax to Buy U.K. Power Generation Portfolio for GBP702m in Cash
Driver Group Sees FY Pretax 'Comfortably Ahead' of Expectations
Bellway Full Year Revenue Meets Estimates
Ferrovial Mulls Selling its Service Unit, Expansion Says
Swedbank Wants a Bigger Chunk of the Norwegian Junk Bond Market
Enel Sets Increase in Enel Americas Stake by Up to 5%
TomTom Boosts Full Year Revenue Forecast
Unicaja in Talks to Cut at Least 10% Staff Over 3Y: Confidencial
KKR, Mirova, Macquarie Best Placed for Altice Fiber JV: Echos
Enagas Nine Month Net Income EU325.7 Mln Vs. EU375.7 Mln Y/Y
NCC Starts 'Extensive Measures' to Strengthen Profitability
Sanofi: Dupixent Phase 3 Trials Met Primary, Secondary Endpoints
Valneva: Started Second Stage of Chikungunya Vaccine Ph 1 Study
ECA Group Wins EU4M Contract W/ Sonatrach Algeria Arzew Plant
Ambea Acquires Aleris Care For SEK2.6b
Sligro to Cut 200 Jobs at HQ Following Emte Sale, AD Reports
Telenor Thai Arm to Be Sole $1.2 Billion Spectrum-Auction Bidder
BHP Says SolGold Will Issue 100M Shrs to BHP
Glencore to Retain Rolleston Coal Mine in Queensland
Portugal's Centeno Keeps Deficit Goal of 0.2% in 2019 Budget
TECHNICAL OUTLOOK for Stoxx 600 index:
Resistance at 362 (March low); 365.1 (38.2% Fibo)
Support at 353.2 (50% Fibo); 341.2 (61.8%)
RSI: 23.3
TECHNICAL OUTLOOK for Euro Stoxx 50 index:
Resistance at 3,262 (March low); 3,274 (Sept. low)
Support at 3,194 (50% Fibo); 3,072 (61.8% Fibo)
RSI: 29.7
MAIN RESEARCH AND RATING CHANGES:
UPGRADES:
Admiral upgraded to buy at Goldman; PT 23.52 Pounds
Aggreko upgraded to outperform at RBC; PT 10 Pounds
Antofagasta upgraded to buy at Peel Hunt; PT 10 Pounds
Antofagasta upgraded to outperform at Macquarie; PT 9.20 Pounds
Basilea upgraded to hold at Baader Helvea; PT 55 Francs
Enel upgraded to buy at Citi; PT Set to 5 Euros
Homeserve upgraded to buy at Citi; PT Set to 10.50 Pounds
Nordic Semiconductor upgraded to buy at SpareBank; PT 50 Kroner
Norwegian Finans Holding raised to buy at SEB Equities
SES GDRs upgraded to neutral at JPMorgan; PT 21 Euros
Avantium N.V. cut to reduce at Kepler Cheuvreux; PT 3.50 Euros
ConvaTec downgraded to neutral at JPMorgan; PT 1.83 Pounds
Getinge downgraded to reduce at AlphaValue
Intu downgraded to neutral at Citi
Lufthansa downgraded to sell at DZ Bank; PT 15.50 Euros
Smith & Nephew downgraded to hold at HSBC; PT 14 Pounds
Superdry downgraded to hold at Stifel; PT 8 Pounds
Tomra downgraded to sell at SEB Equities; PT 175 Kroner
Wacker Chemie downgraded to underweight at JPMorgan; PT 86 Euros
Amplifon reinstated hold at Fidentiis Equities; PT 18.50 Euros
Autogrill reinstated buy at Fidentiis Equities; PT 11.90 Euros
Charter Court Financial Services Group rated new buy at Citi
Close Brothers rated new neutral at Citi
Falck Renewables reinstated buy at Fidentiis Equities
Homeserve rated new buy at Berenberg; PT 11.50 Pounds
Imperial Brands rated new outperform at Bernstein
JD Sports rated new underweight at Morgan Stanley
KCOM rated new buy at Berenberg; PT 1.15 Pounds
LeoVegas rated new buy at DNB Markets; PT 70 Kronor
Luxottica reinstated hold at Fidentiis Equities; PT 52.50 Euros
Moncler reinstated hold at Fidentiis Equities; PT 39.50 Euros
NOS rated new buy at Kepler Cheuvreux; PT 6.50 Euros
Paragon rated new neutral at Citi
Piaggio reinstated hold at Fidentiis Equities; PT 2.30 Euros
Prysmian reinstated buy at Fidentiis Equities; PT 25.50 Euros
Salvatore Ferragamo reinstated hold at Fidentiis Equities
Swedish Match rated new market perform at Bernstein
Telia resumed at morgan stanley With Equal-weight
Varia US Properties rated new hold at Kepler Cheuvreux
MSCI Asia Pacific down 1.2%, Nikkei 225 up 1%
S&P 500 down 0.6%, Dow down 0.4%, Nasdaq down 0.9%
Euro down 0.04% at $1.1574
Dollar Index up 0.11% at 95.16
Yen down 0.26% at 112.06
Brent up 0.3% at $81/bbl, WTI up 0.1% to $71.9/bbl
LME 3m Copper down 1.4% at $6212.5/MT
Gold spot down 0.1% at $1225.6/oz
US 10Yr yield up 1bps at 3.17%
MAIN MACRO DATA all times CET:
10am: (IT) Aug. Industrial Sales WDA YoY, prior 2.9%
10am: (IT) Aug. Industrial Orders NSA YoY, prior 2.8%
10:30am: (UK) Sept. Claimant Count Rate, prior 2.6%
10:30am: (UK) Aug. Average Weekly Earnings 3M/YoY, est. 2.6%, prior 2.6%
10:30am: (UK) Aug. ILO Unemployment Rate 3Mths, est. 4.0%, prior 4.0%
11am: (EC) Aug. Trade Balance SA, est. 14.7b, prior 12.8b
11am: (GE) Oct. ZEW Survey Expectations, est. -12, prior -10.6
11am: (EC) Oct. ZEW Survey Expectations, prior -7.2
11am: (IT) Sept. CPI EU Harmonized YoY, est. 1.6%, prior 1.6%
12pm: (IT) Aug. Trade Balance Total, prior 5.68b