Italy's Bonds Drop as Leaders Defiant Before Eurogroup Meeting
(Bloomberg) -- Italian bonds declined as euro-area finance ministers were set to discuss how to deal with a government that is showing few signs of capitulating on its budget plans.
Short-dated bonds led the selloff and domestic stocks snapped a three-day rally before the gathering that takes place in Brussels Monday. Italy's leaders have until Nov. 13 to submit revised spending plans after the European Commission took the unprecedented step of rejecting initial proposals to widen the deficit. Deputy Prime Minister Luigi Di Maio said in an interview with the Financial Times that the government's plans would not change.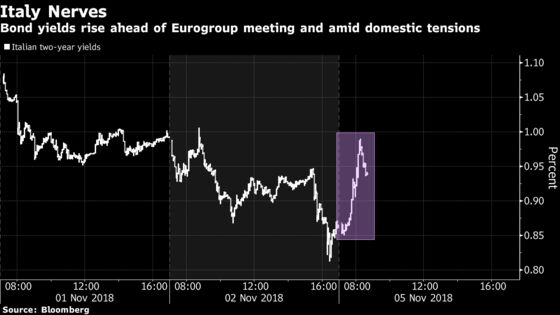 The commission will propose disciplining Italy on Nov. 21, Politico reported Monday, citing three unidentified people involved in the talks in Rome and Brussels. It may base its recommendations on the country's debt -- which is equivalent to 130 percent of economic output -- rather than next year's target deficit that could help speed up proceedings, the report said.
There were also signs of infighting between Italy's coalition partners, with Giancarlo Giorgetti, a League member and key aide to leader Matteo Salvini, warning that the government could be at risk of collapse if the parties focus only on polling results. Support for the League rose to 34.7 percent in an Ipsos poll published in Corriere della Sera. European commissioner Valdis Dombrovskis said Italy's budget plan needs substantial adjustments.
"The Eurogroup meeting could see a display of unity from other finance ministers against Italy's budget plans," said Antoine Bouvet, an interest rates strategy at Mizuho International Plc. "The market might be anticipating a heated debate on the topic."
Italian two-year yields climbed five basis points to 0.91 percent, while those on 10-year bonds rose three basis points to 3.35 percent. The yield spread over their German peers widened three basis points to 292 basis points. The FTSE MIB Index of shares dropped 0.4 percent.
Italian bond futures slipped, with a block trade of 500 10-year contracts adding to the pressure, according to traders in London. The move appeared to be flow-driven with no material news, though may reflect some positioning ahead of the Eurogroup meeting, the traders said.